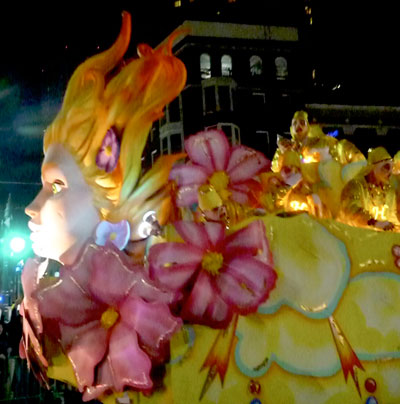 There are two faces of Carnival. Friday night my husband and I stood next to Hermes parade newcomers from Dallas, and when they asked where to eat I peppered them with questions to find the right restaurant. It's my favorite food writer challenge. They were looking for casual so I recommended SoBou from the Commander's Palace family for cocktails, Crescent City Brewhouse for brunch with a balcony, and Elizabeth's for fried chicken if they make it out of the French Quarter to the Bywater -- ask for Erin. We parted friends, and I hope their bellies benefited from the exchange.
On Samedi Gras, the Saturday before Mardi Gras Day, I had two goals: 1) See my artist friend Shannon Kelly's American Eagle in the Krewe of Tucks Parade; and 2) Stock up on coffee. Enter the other face of Carnival. A woman walked a wheelchair next to the parade barricade and stood on it as floats passed by, while flashing her pasties for beads. This was during a day parade surrounded by families. When a throw didn't make it close enough, she jumped the barricade to grab it and climb back over.
That was a bridge too far for the policewoman patrolling the parade route. "The next time you do that, I'm taking you to jail," she told the reveler. "I'm DISABLED!" Pasty shouted as she angrily climbed back atop the wheelchair. I hope she really does need the wheelchair and was miraculously healed for two hours by the Ghost of Friar Tuck. But I doubt it. And I miss the Friday couple.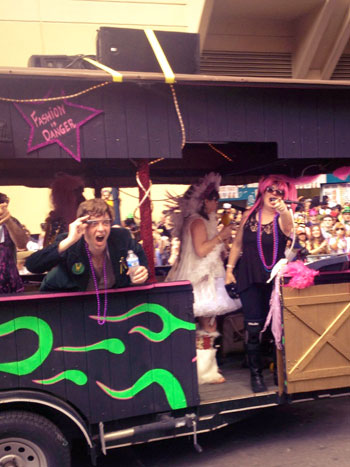 Mardi Gras is a marathon, not a sprint. Couples who have powered through two weeks of revelry are now beginning to walk horizontally, leaning on one another pyramid-style on the long walk back to the hotel room. Guess How Many Days They've Been Up is a fun way to pass the time.
We walked home from the parade route with the bedazzled, bedraggled masses to Rouses, a French Quarter grocery store with the unambiguous motto: You're Either Local Or You're Not. Checkout lines won't be getting any shorter, so I braved the crowds and stocked up on life-giving coffee.
Between the Rouses and home, we met a crowd of itinerant preachers carrying crosses and accompanied by a man whipping the street as he encouraged passers-by to whip the devil. This happens earlier every year. Sometimes I ask the angriest megaphone holder, particularly if he's using a megaphone to tell gay revelers they're going to hell, if he has ever practiced Onanism. When he says yes, but it's a sin he's not proud of, I say: "You're pretty judgmental for a cross-wielding masturbater."
But not today. Sometimes you just want to get home and hunker down before it all starts up again.
Here's a recipe for Hai Coffee, suitable for a morning drink but it ages well into the afternoon. John Paul Dejoria came to New Orleans for the Super Bowl in his 1920's train, The Patrón Tequila Express. We came home after a tour of what was once Franklin D. Roosevelt's private railcar with a bottle of Patrón Coffee Liqueur and have been waking up guests on Mardi Gras morning with it ever since.
Hai Coffee
Ingredients:
1.5 oz: Hershey's Double Chocolate Sundae Syrup
1.5 oz: Patrón XO Café Dark Cocoa
1.5 oz: 30% Whipping Cream
1.5 oz: Brewed Dark Coffee
Blend all four ingredients in a shaker half-filled with ice. Pour into a go-cup and swirl an extra dollop of syrup on top. You may substitute a fancier chocolate, but Mardi Gras guests enjoy anything that appeals to their inner 5-year-old. Serve with cheese curls, chips, dip, popcorn and cookies. Also carrots for guests starting their Ash Wednesday early.