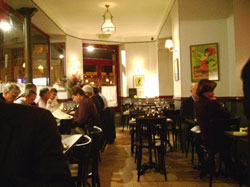 Alas it was time for my vacation in France to end with the new year in full bloom and my duties back in New York City calling. I had a farewell dinner with my father at a little bistro run by a very young chef. My father is a voracious reader of all the Parisian publications and came upon a review of the burgeoning restaurant Jadis. Various newspapers have lauded it as the best of its kind in the fifteenth and possibly the city. The meal was very good in a classic bistro fare sort of way though I feel it is a stretch to call it one of the best in Paris let alone the very best. The food offered was mostly updated classics and reinvented French conventions. The cuisine could be called new wave French I suppose, archetypal though innovative.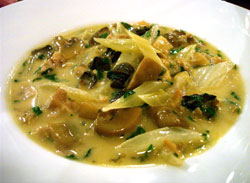 The food was mostly game oriented and incorporated every part of the animal from kidneys and entrails, to feet and brain. My father ended up being the bolder of the two of us, ordering two dishes that I loved tasting but would rarely order myself. He began with the pied d'agneau or lamb trotter. The round white bowl that appeared contained a strange looking soupy ragout with chunks of lamb foot meat, snails, button mushrooms, and sliced cardoons. It sounds more like a bizarre sorcerer's potion but those were in fact the ingredients and they worked surprisingly well. The lamb trotter tasted like fatty pieces of roast leg of lamb and the saltiness of the sautéed snails matched well with the texture of the mushrooms. My father was overjoyed with the dish; naturally a big fan of organ meats given his French heritage. I tried two or three bites and would have gladly accepted my own serving.
For my appetizer I had the veloute au huitres or oyster soup. The flavor of the oyster was definitely there in the smooth pale yellow soup though the presentation was revolting, bringing the whole dish down a peg. I believe the chef simmered oyster liquid, cream or milk, and fish stock before pureeing the soup with whole oysters or perhaps passing them through a sieve. Why on earth you would ruin the natural flavor and beauty of the dish with steamed broccoli spears and thick slices of Cantal cheese is totally beyond me. Our main courses eased my suspicion of my ordering choice after fearing that horrible phenomenon of ordering badly at an otherwise excellent restaurant left to sit there begrudgingly while your company indulges.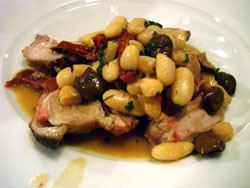 My father had a crazy jet-black plate of gibier or wild game consisting of sliced fowl breasts, its respective crispy thigh, and a thick dark sauce of melted foie gras and blood. Like I said he loves game and organ meats so he enjoyed every bite of his main. I had the agneau de lait or milk-fed lamb served in an old copper pot with olives, white beans, and sun dried tomatoes. The presentation was excellent and I enjoyed serving myself little portions of the piping hot and saucy lamb. I consider my first course a major fumble but the chef recovered nicely. We finished our meal and nice bottle of Saint Joseph before casually making our way back to apartment where my suitcase waited patiently. It was a lovely end to my fantastic two weeks in France and I hope to return very soon.
Originally published on the food blog Pomander Saveur.