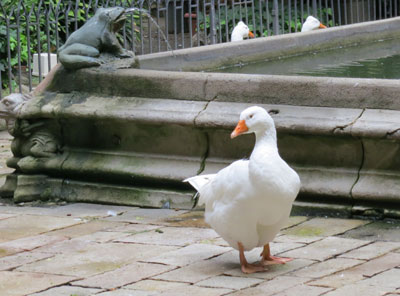 We'd been at the Barcelona Cathedral, the old one, not the Gaudi one that's never finished, extraordinary gothic architecture graced with gargoyles and an adjacent museum with jewel encrusted crosses, too many carats to count. The cathedral is the resting place of Santa Eulalia. Almost like a film credit, she is the co-patron saint of Barcelona and the cathedral is guarded by thirteen white geese as she was thirteen when she died. (I know this is true because I counted them.)
We were on a cruise and the ship was leaving at five. It was three o'clock and we hadn't eaten. In the spirit of adventure, (risky, as this is sometimes not my husband's favorite thing), I followed a native (read: person walking dog) through the back streets of Barcelona to a residential neighborhood only to discover the most amazing charcuterie I'd ever seen. In the back of a shop, a white tableclothed restaurant with wine and cheese pairings and other delights. Reservations only.
The sommelier was intractable even though there was an empty table. He insisted we come back in an hour and a half. I tried to explain to him our ship would be gone by then. In desperation, it was almost four o'clock by then and like I said, we hadn't eaten. My family can attest to the fact that I do not do well without food.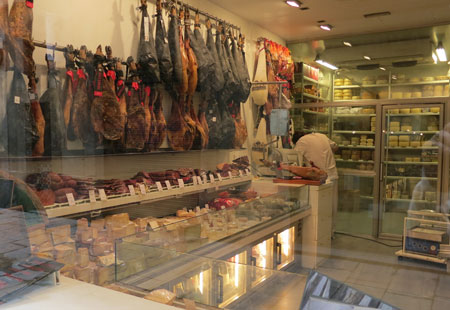 I wandered shyly back into the charcuterie itself and asked the proprietress if it was possible to get a sandwich. Unaware of our earlier rejection, she marched us into the cafe and sat us down at the empty table.
The sommelier had an instant attitude change as I surmised she owned the place, sent over, as if by way of apology, a slice of something that was somewhere between a dobosh torte and a napoleon, think cream puff divided by many layers of the crispiest puff pastry and dotted with chocolate, we almost forgave him.
But then the ham sandwich arrived...and I've literally never tasted anything like it: Iberian ham and the lightest goat cheese on slices of a fresh baguette. Naked except for that. And so delicious, I'm trying not to crave one, now. It is worth a trip to Barcelona for this ham sandwich alone (reservations recommended).
Vila Viniteca, owned and operated by the Vila family since 1932...and I don't think we actually "discovered" anything, more in the category of an alien finding Zabars in New York, as it stocks more than 7500 wines and cavas and hundreds of varieties of artisanal cheese and the aforementioned Iberian ham.