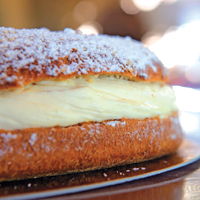 When I told friends I was going to spend four weeks in St. Tropez last summer, more than one of my foodie friends told me I must try the Tarte Tropezienne—which was described to me as a giant brioche filled to the heavens with a creamy vanilla custard. This sounded like a dream come true. As I child I loved pudding—homemade butterscotch pudding, or bread pudding, or crème brulee, were the best—but mostly we ate packaged pudding, the Jell-O Brand. I liked vanilla and my brother, ten months older, liked chocolate, and my father told us that as toddlers we would sit facing each other in twin highchairs and smear our respective puddings all over our faces, smiling in ecstasy. 

So naturally, finding and sampling this so-called Tarte Tropezienne went to the top of my "list of things to do" while I visited St. Tropez. That's what one does when one travels to France—you get obsessed with pastries. And wine. And bread. And olives. And cheese. Plus, we New Yorkers tend to become obsessed with finding "the best" (primarily so that we can go back and tell our friends at dinner parties that we found "the best" goat cheese or the best rosemary-and-olive fogasse or the best early-season figs. 
But getting back to my quest for The Best Tarte Tropezienne...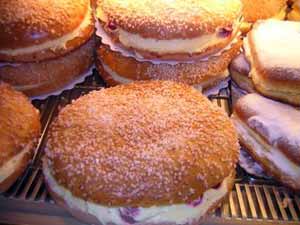 The first sample I managed to track down came from a street-cart vendor at a flea market in St. Maxime. There they were, stacked in neat rows behind a glass case, all perfectly round and golden. Tarte Tropezienne come in three sizes, small (the size of a whoopee pie) medium (one generous slice of the grande) and grande, a bulging behemoth pie the size of a dinner plate. I ordered a mini, thinking I could work my way up to the, if you'll forgive the pun, grand finale. But I was frankly disappointed by my street cart tarte.  The brioche was too sweet (they aren't supposed to be) and dry, and the filling—in taste and texture—was more like cake frosting than pudding.

The good news is my second favorite thing to eat as a child was frosting, or better, a frosting sandwich, of the excruciatingly-sweet variety, the kind that came from can. When my father wasn't looking I spread a big gob of canned chocolate frosting on two slices of Wonder bread and ate this for lunch. The St. Maxime tarte was not much more than my childhood frosting sandwich, so I wasn't all that impressed. I assumed I had been duped—that the tarte wouldn't be the "best thing I had ever tasted" as a friend had predicted. Or maybe I had simply made an error in judgment by sampling my first one from a street cart.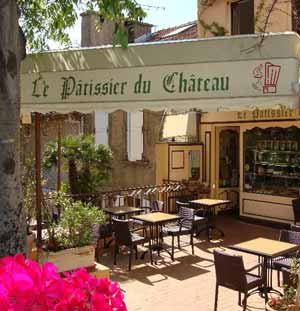 "Non, non, non," my French hosts said when I told them I had abandoned my Quest for the Perfect Tarte after only one try. "Those street cart venders, they are no good. It is merde." (The French always have strong opinions about their pastries.) They told me I must try the village patisserie in Grimaud. They told me that this patisserie, called, simply Le Patisserie, makes only one tarte per day, for the tourists. "All the slices would be gone by lunchtime," they said with a smirk. I made sure I was the first in line at seven in the morning, so that I could receive the first slice. The filling of the tarte was perfect – a creamy, dense custard with just the right amount of sweetness. But the brioche was coated with confectioners sugar, and I kept inhaling the powder and choking every time I took a bite. Hours later, when I finally got a chance to see myself in a mirror, I saw that I had powder under my nose, like a coke addict.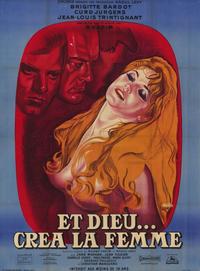 "But of course," said another French friend. "That village, it is not so sophisticated. And their bread is no good. A real tarte is glazed with coarse sugar. What you ate is an imposter." They recommended the aptly named "Tarte Tropezienne"— a famous chain of patisseries, whose secret recipe for their brioche and custard is "protected" (the French word for "patented"). According to Albert Dufrene, the sales manager for the Tarte Tropezienne chain, the pastry originated on the set of Trouffaut's famous St. Tropez film: And God Created Woman in 1955. A young baker named Alexandre Micka was the head caterer for the crew, and each day he made them a special cream cake that came from a recipe passed on by his Polish grandmother. As legend has it, Brigitte Bardot was so besotted with Mr. Micka's cake that she insisted that he "protect" the recipe. But to earn "protection," a pastry must have a name. Therefore Bardot christened the cake the "Tarte Tropezienne." And thus the chain was born.

I invited my hosts to accompany me to the famous patisserie closest to our villa, but they, like many St. Tropez residents, admitted that they never partook of their famous local attraction.  "The tarte is too sweet," they said. "It is for the tourists." But I was not afraid of sweetness, or of being pegged as a tourist, so I hopped on my Vespa and sped off to the nearest Tarte Tropezienne.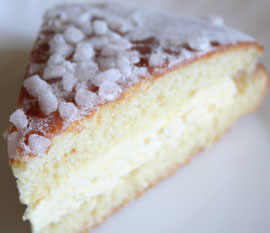 I was not sorry. This time I ordered the medium size portion – basically one quarter of a large-sized tarte. The brioche was perfect—moist and feathery, with a slightly crisp egg yolk glaze and a generous sprinkling of granulated sugar. But the filling—an inch and a half thick—was a bit too pudding-y for even this pudding fanatic. The Grimaud custard was better. But the Tarte Tropezienne brioche took first place. And, as with any burgeoning addiction, I had to keep going for reasons I can't even explain. I was becoming more and more determined to find the Ultimate Tarte.

At the Hasselbach bakery in Antibes—an Alsatian boulangerie and patisserie on the Rue de la Republique, I found a heavenly tarte—with a moist, crisply glazed brioche and a perfect custard. Also in Antibes is the Au Palais de la Friandise—a famous Parisian chocolatier and confectioner who also have a store on the Champs d'Elysees in Paris.  By then I had been in France long enough to know that there was a big distinction between a boulangerie/patisserie and an exclusive patisserie.  The former served peasant bread. Enough said. The latter produced pastries and tarts and cakes that looked as if they had been prepped and shellacked by a food stylist.  The Tarte Tropezienne at Au Palais de la Friandise was so perfectly round and shiny it looked porcelain. At 13 Euros, the Palais' tarte was the most expensive I had encountered, but its rich, creamy, butter-colored custard proved to me that sometimes money can buy happiness.

Then yet another friend told me of yet another winner, in the old town section of St. Tropez, near the port. I thought if I sampled just one more I would be satisfied, and not gain too much weight.  Here again I encountered the moist brioche, the heavenly custard and was starting to conclude, just as there is no such thing as a bad piece of pizza, on the Riviera there is no such thing as a "bad" tarte.

After seven straight days of Tarte-hunting, I had to face the fact that my jeans felt tighter. And that my stomach had developed a rather pudding-y pudge. It was all in the name of research, I told myself. I felt satisfied that I had achieved my childhood dream. 
 
LOCATIONS:
Tarte Tropezienne:
Cogolin centre :
Rue Beausoleil - 04 94 54 42 59

Sainte-Maxime :
112 Avenue Charles de Gaulle - RN 98 - 04 94 96 01 65
et Marché Couvert - 4 rue Fernand Bessy - 04 94 96 75 34

Saint-Tropez :
9 bd Louis-Blanc - 04 94 97 19 77
36 rue Georges Clemenceau - 04 94 97 71 42

PLUS SEVERAL OTHER LOCATIONS IN THE VAR REGIOUN.WWW.TROPEZIENNE.COM

Hasselbach
Two locations:
rue de la Republique, ANTIBES

Au la Palais de la Friandise
50, rue de la Republique, ANTIBES

GRIMAUD
La Patisserie
4 rue de Foux