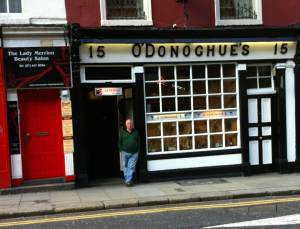 We just spent a few days in Dublin on our way home from Italy. When we departed Rome on Thursday it was ninety-seven degrees and dry as toast; when we got off the plane in Dublin two hours later it was in the mid-fifties and drizzling. The first thing I did was to buy a wooly sweater and a cap. I love Europe — you can change cultures as easily as changing your clothes.
We were there to visit our friends Marc and Cathy. He's an American of Irish descent and she's a Dubliner born and bred. They showed us a grand time, a brilliant time. That's the way they talk over there.
First stop on Thursday evening, we met Marc at O'Donoghue's bar — a perfect place to slip into the spirit of the Auld Sod. I noticed that Irish bartenders aren't mixologists. They draw pints, they pour shots and they engage one and all in charming conversation — that's it. I asked for a gin Martini and the barman looked at me quizzically.
"So, that would be a bit of Martini in a glass and then … a bit of gin?"
"Well, more like a slug of gin and then just a whisper of Martini."
"Ah, just a whisper then," he said with a smile. The smile is everywhere.
After O'Donoghue's we checked out the lobby of the Shelbourne Hotel which drips with Irish history; then we strolled across a corner of St. Stephen's Green to meet Cathy for dinner at Marc's club — yes, he's joined a club; he wants to establish himself as a Dubliner as soon as possible.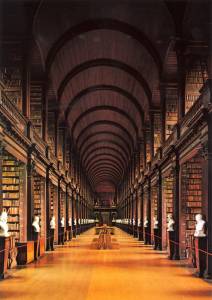 Friday was our day for James Joyce — a stop at Sweeny's Chemists where Leopold Bloom bought his bar of lemon soap; then a stroll through the playing fields of Trinity College up to the vast and ancient library known as the Long Room, which Marc compared to seeing the Grand Canyon for the first time. We lunched at The Bank on College Green — I had seafood chowder, which was creamy and good, and a pint of Guinness. It was a lovely lead-up to a nap.
We generally ate well in Dublin. Often we had traditional Irish fare; a few nights we sampled newer, hipper food and it was all quite good. But we had just spent five weeks in Italy and that's a hard act to follow. Mi dispiace, Dublin, but every taste in Italy is more vibrant — a string bean, a fresh pepper, a leaf of basil crushed in your fingers — more flavor, more smell. I don't know how they do it.
Saturday, on Marc's suggestion, Jill and I went to the Yeats Exhibition at the National Library of Ireland. We lost ourselves in it — we were there for hours. It has all sorts of films, interviews, famous recordings of his poems, stories of the Abbey Theater and the riots on the opening night of O'Casey's Plough And The Stars. It explores the lives of the extraordinary women in his life, his Muses. Yeats is to Ireland what Dante is to Italy.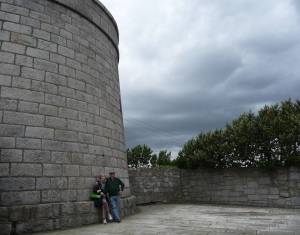 For lunch, Cathy drove us all out to Dalkey — with a stop along the way at The Forty Foot and Martello Tower where James Joyce and Oliver St. John Gogarty once resided. The Forty Foot is a bathing spot where grown people of both sexes leap into the cold sea and have their bodies turn bright pink. We observers were wearing sweaters and parkas.
Dalkey is a lovely town — it's only minutes outside Dublin proper. Dalkey is where some famous folk have houses overlooking the bay to Dublin. We had lunch at The Queens — fish and chips and a Guinness for me; a vegetable curry for Jill — Irish food.
Earlier that day as we were entering the National Library, we walked up to a guard who was sitting behind his desk.
"Excuse me," I said, could you point us to the Yeats show?"
He looked at me for a long time as if I were a little green man who had just walked off a space ship.
"May I ask where you're from?"
"New York," Jill said.
"Ah, Americans! You don't dance around it, do you? You cut to the core of it. The "Yeats Show." That's marvelous."
"What would you call it?" I asked.
"Well, from now on I'm callin' it the Show."
The Irish are great. Where else can someone call you feckin eedjit and mean it in the nicest way?
Michael Tucker is an actor and author whose recent novel is "After Annie
."  He writes about his love of food on his blog Notes from a Culinary Wasteland.