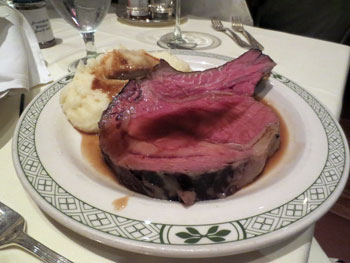 When I landed at LAX I didn't have the heart to tell my father all I wanted for dinner was some delicious Prime Rib from Lawry's. But, I didn't need to wait long because just as we entered the house he announced we would be getting dinner there that very night. Needless to say, the Martini, Lawry's Cut, and all the sides had me full, content, and very sleepy after a long day of travel.
I also had a mission on my LA trip. I really wanted to find some delicious tacos. As luck would have it, my dear friend Almie moved to Loz Feliz and suggested we try Ensenada's Fish Tacos. We were not dissapointed. For a mere 6 dollars we got Fish, Shrimp, and Potato Tacos with fresh homemade salsas and a particularly interesting radish slaw.
A couple days later my dear friends from Birthright, Mike and Julie, toured historic Downtown with me where we saw the new Grand Park, and many beautiful buildings, on foot. We stopped in to Mr. Ramen to grab a quick lunch and it was delightful. Just the kind of excellent Ramen I remember LA having.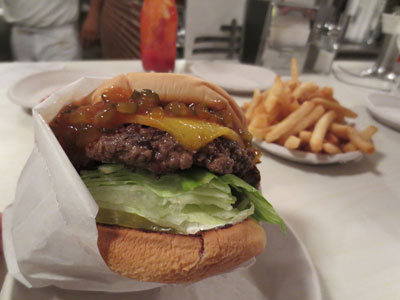 And, of course, what would a journey to Los Angeles be without Burgers? My brother, John and I, caught up over In N' Out. I ordered a Double Double, Animal Style, and he got the 3x3 Animal Style (that's 3 patties!). However, we mixed up our burgers and I ended up eating most of his 3x3. He absolutely had to help me finish it…I swear!
And, lastly, John and I met our father for dinner at the Apple Pan on Pico. They have excellent burgers and only counter seating. There's no wait list, so it is rather funny to see those waiting eyeing your counter seats like vultures in the desert. Yes, the burgers are that good.
LAWRY'S: 100 N La Cienega Blvd., Beverly Hills, CA 90211
BEST FISH TACO IN ENSENADA: 1650 Hillhurst Avenue, Los Angeles, CA 90027
APPLE PAN: 10801 W Pico Blvd., Los Angeles, CA 90064
Kelly Klein is an actress and writer based out of New York. When she isn't taking pictures of her dinner, she enjoys going to yoga, watching movies, and hanging out with her dear friends. Her other stories and photos can be found at Calloways.