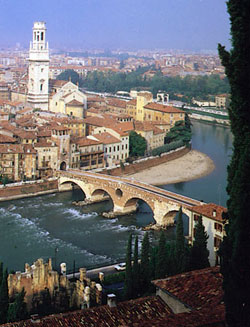 I did it for you, dear reader. I did it all for you. I did something I vowed I would never do. Not in a million years. But there I was in Verona. City of Romeo and Juliet. City of beauty. And after seeing so many beautiful things, one does get a bit peckish. And all the guidebooks recommended the same thing: horse. It's a specialty of the area. So when Jim and I found ourselves at the local restaurant perusing the menu, there it was, staring us in the face: smoked horse with arugala salad. There was also pasta with a donkey ragú on the menu like it was the most normal thing in the world to eat these equines. " I guess we had better try it," said Jim. "Really?" "Yeah. How bad can it be?" He said nonchalantly. I could sense a challenge. "OK, go ahead order it." "Ok, I will," he countered, adding, "and we'll share it." I took a large gulp of my prosecco and waited anxiously for the dish to arrive.
It's not as though I am vegetarian or even a vegan. It's not as though I grew up riding horses through the British countryside or fox hunting, thank God. But I suppose the prospect of eating horse is like eating dog. i.e. eating a pet. Although to be honest I'm not much of a dog person either. I prefer cats. And thankfully no one ever talks about eating cats. OK, maybe in Asia But nonetheless horses and dogs are our friends: we feed them, we take care of them and there is something about turning around, killing them and eating them that seems rather upsetting. A 'Charlotte's Web' syndrome, if you will.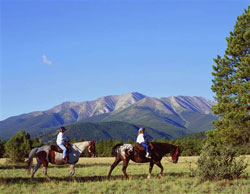 When I was sixteen, I did have a horsey moment at a ranch in Aspen, Colorado. I was with my mother, who was meant to be writing at the Aspen Institute, but was actually drinking herself into a stupor. Happy to escape, I was sent to a nearby ranch as a kind of summer camp. I immediately developed a crush on the owner's son, Jack. Jack was cute in that all- American, leave-it to-Beaver way, reddish brown hair that kept falling across his face, with a smattering of freckles. Jack taught me to ride western style and we would go on daylong trails through beautiful mountains and woods. Afterwards, novice that I was, I could barely walk. But, we would sit around an open fire roasting marshmallows, drinking cokes and smooching. It was all very innocent and fun. I even had a brief fantasy of leaving school, moving out west and becoming a cowgirl. But these dreams were shattered: Jack's dad, Jack senior, had other ideas for Jack Junior. He was convinced that he was nurturing the next, Joe Montana. And in order to get Jack Jr. into training for the coming high school football season there could be no distractions, particularly of the female kind. So, Jack was sent to football training, and my mother sobered up long enough to put me on a plane back to England and boarding school. And so ended my relationship with horses.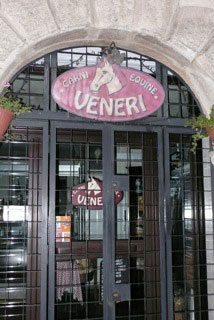 Until now, here I am forty years later, being presented with a large plate of arugula covered in what I can only describe as finely grated horse and topped with shavings of parmesan, drizzled with olive oil. Nervously, I took a bite, and quite honestly it didn't taste like much. The meat was reddish brown and had that salty flavor that dried meat often has. Jim was a bit nonplussed too. Although he felt that grating the meat gave it a less chewy texture than it might have had otherwise. Who can say? I doubt I'll try horse again. But I don't regret having tried it. It's good to expand one's culinary horizons occasionally.
On the way back to the hotel, we passed a butcher's shop with a picture of a smiling horse's head. In the window was there a surprisingly long list of equine treats including ground meat, smoked meat, steak and sausages. It's high in protein and low in fat, too. And, judging from the prices, all relatively inexpensive. During these times of financial duress, I suppose it would be foolish to look a gift horse in the mouth. Furthermore, if the good people of Verona and the Veneto – not to mention numerous other nationalities – have been eating horse for hundreds of years, who am I to judge?