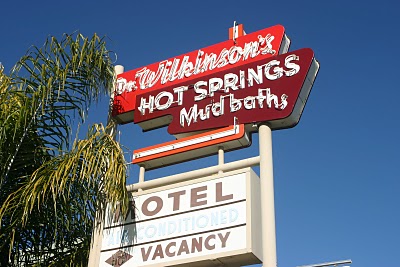 Leaving Maine in the long, dark days of Winter and heading west to Calistoga, California's mud baths is a a tempting break this time of year. Calistoga is a precious, tiny town at the top of Napa valley that hasn't changed in the least in the last 20 years that I have been going to "take the mud".  I must confess I am a spa junkie and this place is pretty wonderful – a town of spas all with different mud blends, super restaurants within driving distance, nice weather with dreamy morning fog and wineries every 100 feet. What is not to like?
We enjoy staying at Dr. Wilkinson's Hot Springs, a basic, no frills place. They always have great mid-Winter deals on room/spa specials that are irresistible. The 2-hour treatment starts by being lowered into a large tiled tub of volcanic ash and peat moss with the help of the attendant who then places ice cold cucumber slices onto your eyes and slathers old fashion, fragrant Pond's cold cream on your face. For the next twenty minutes, as my bones warm up with the weight of the hot mud, I can feel the toxins flowing out of every pore, as each part of my body relaxes bit by bit.  As the mud starts to cool near the surface you find yourself pushing you arms and legs deeper into the tub closer to the heat source. It feels so good!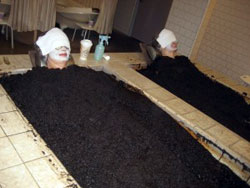 Then there is a gently tap on your shoulders that it is time to get out of the mud. Off comes the cucumbers and now you really have to concentrate on how you are going to maneuver your relaxed lump of a body out of this heavy mud. These attendants do this every day, day in and day out, so they know how it is done. You are in good hands, but one really has to wonder if you are going to be "the one" that gets stuck in the heavy mud...and then what happens? I gleefully report I was not one of the ones that got stuck, thankfully.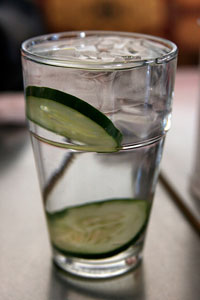 Next, it is shower time to get the mud and peat off which takes at least 10 minutes because of the endless hot water coming out of the rainfall shower heads and the lovely soap and shampoo. It is nothing that you want to rush through. From there, they walk you to your prepared claw foot tub full of orange and lavender scented bubbling salt bath. They hand you a glass of water flavored with cucumber and a straw and close the curtains on you for another 15 minutes. Just when you are floating on a cloud they gently touch your shoulder again and help you out for the steam bath that is percolating not more than 10 feet away. You can stay in the steam bath as long as you want, but by this time you feel like a rag doll and ten minutes seems like more then enough. Out I come and instantly the attendant appears holding up my oversized thick cotton robe and motions to me to follow her.
Slowly I walk down the hallway to the quiet relaxing cubicles and stop at the one with my name on it. She motions me to lay down on the bed and she skillfully wraps me in a cotton sheet and then in a thick, heavy wool blanket with just my mouth exposed. The new age music is playing at just the right volume and I fade into a weightless relaxed, content sleep. This part of the treatment is never rushed, you can stay as long as you want but 30 or 40 minutes is about all I can take. The heat is just pouring from my bones. As I push back the sheet and blanket of my temporary cacoon it is like breaking out of a plaster cast and being released back into the world with renewed energy and a contented smile. And I still have two more days to go...
Dr. Wilkinson"s Hot Springs
1507 Lincoln Avenue
Calistoga, CA. 94515-1331
707.942.4102
Brenda Athanus runs a small gourmet food shop in Belgrade Lakes, Maine with her sister Tanya called the Green Spot.
The Green Spot
This email address is being protected from spambots. You need JavaScript enabled to view it.
207.441.9327