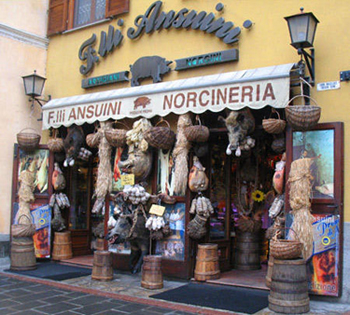 Norcia is a secluded, walled city in the mountainous region of the Valnerina in southeastern Umbria. Its history dates back to the fifth century before Christ. St. Benedict and his twin sister were born there in the year 480. Other than that, Norcia is famous for its pork products and its black truffles. It's the pork capital of Italy – so much so that the shop of a pork butcher anywhere in Italy is called a norcineria.
There are two very different pasta dishes that go by the name alla norcina. Version one — often made with fresh pasta like fettucine or the local Umbrian pasta, strangozzi – is simply pasta with fresh truffle grated over the top. Of course, it's not that simple. Actually you chop a clove of garlic together with a couple of anchovies, put them into olive oil in your pan. Heat and stir into a paste. Toss the cooked pasta into the pan, stir and then grate the truffle over the top. That's one version. Alla Norcina version two is a whole other kettle of macaroni. It's generally served over dried pasta – usually penne or rigatoni. It features pork sausage and it's one of the most satisfying recipes in the repertorio – especially in the winter when you want to warm yourself from the inside. So simply, it's pasta with crumbled sausage, cream and truffles. But once again, it's not that simple.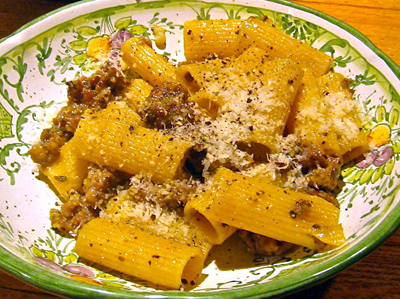 If you'll indulge me for a moment, I'll take you on a trip through a couple of Italian-language recipe sites and a short course in Recipe-Italian, one of most expressive languages in the world. On a site called buoneforchette.com, for example, the recipe is bare bones – brown the sausage meat in oil; sizzle a glass of wine in to stop the browning; add a cup or so of heavy cream; toss in the al dente pasta, salt and pepper and you're done.
On the other end of the scale – on a site called spaghettitaliani.com, the recipe is far more complicated (and much, much better, in my opinion). It includes eggs (which I prefer to cream), nutmeg, grated parmigiano and pecorino cheeses, truffle paste (or fresh truffle, if you have it) and I also add a few dried porcini. I'll take you through that one in detail and teach you a little Recipe-Italian as well.
Here are the ingredients:
Dried porcini – small bag
1 lb. penne or rigatoni
5 sausages – spellato (peeled; removed from the casing) and sbriciolato(crumbled) – sbriciolato is a great word – just say it a few times.
Olive oil
2 eggs
heavy cream – a bit, if you like
salt
pepper
nutmeg
grated parmigiano
grated pecorino
truffle paste - 3 tablespoons or so – or a fresh truffle to grate over (if you can't find truffle paste near you, you can order it from Buonafide Foods http://www.buonafidefoods.com
1. Put the dried porcini in 2 cups of hot water to soften; drain them through a paper towel, save the liquid; dry and rough chop the porcini;
2. Put on pasta water to boil;
3. Brown the crumbled sausage in 4 tbsps olive oil; add the porcini and sizzle in some mushroom juice to scrape of the bits of sausage stuck to the pan. Keep warm;
4. Beat the eggs well (sbattere is the Italian word for beat – when they want you to beat it well, they just say the word twice – sbattere sbattere); add a good grating of nutmeg, salt and pepper; add one
large handful of parmigiano and one of pecorino – combine well (in Italian recipes una mancia (a handful) is an official measurement – maybe three-quarters of a cup).
5. Cook the pasta al dente; drain and add to the pan with the sausage and porcini; toss well;
6. Add the egg and cheese mixture off-heat and combine very well. Add a little cream if you think it needs it (I didn't last time I made it);
7. Add the truffle paste and continue to combine well;
8. Serve with extra grated cheeses and fresh-ground pepper.
Michael Tucker is an actor and author whose third book is the recently published Family Meals: Coming Together to Care for an Aging Parent
. He writes about his love of food on his blog Notes from a Culinary Wasteland.