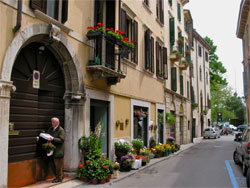 A fascinating journey can be made driving through the narrow, winding streets of Verona and onto the busy auto strada. Past AGIP gas stations and tessellated pylons contrasting with the verdant countryside and the endless rows of vines upon which tiny grape buds soon would appear. Almond and cherry trees with pale green leaves beginning to decorate their elongated arms, and ancient farmhouses painted in faded pinks and umbers seemed not to have changed since Romeo and Juliet pranced in the sun stroked fields. In the distance smoky purple hills, unperturbed by the comings and goings of travelers and my group of voluble giornalisti, watched over peaceful vistas, till we arrived at the Villa Quaranta.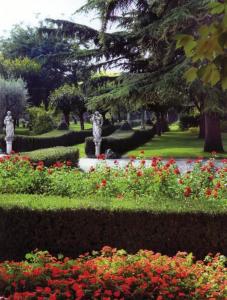 Set in sculptured gardens, this lovely Villa became a wonderful setting for a very special dinner orchestrated by the chefs of five restaurants from the surrounding areas of Venice, Treviso, Padua, Verona and Vicenza, together with many wine producers of the Veneto. Before the grand scale dinner began, a classical concert was performed by members of the New Italian Percussion Group. A most unusual concert using bottles as instruments: long, tall and thin bottles; fat, round and bulbous bottles; bottles made from green, blue and plain glass and goblets of red and white wine on multi-level shelves producing varied musical tones, all blending into a cacophony of sound.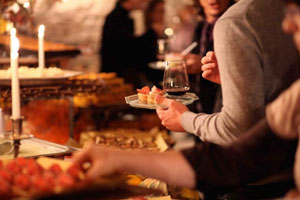 With the music of Verdi, Tchaikovsky, Mozart and Beethoven ringing in our ears and such music is an organic healer for the physical body and senses, we descended the staircase to be greeted with glasses of Prosecco di Valdabbiadena Spumante D.O.C. a dry and sparkling wine. Waiters brought large platters of appetizers, lightly fried and aromatically herbed shrimp, scampi and calamari caught early that morning in the Adriatic Sea.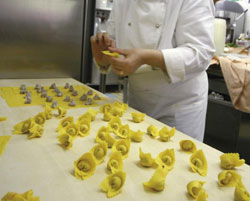 Upon being seated, we were entertained with course after course of cuisine typical of the Veneto. All organically farmed. Fresh white asparagus from the town of Bassano; a peppery arugala salad topped with Capesante porcini; the famous tortellini of Valeggio in a fragrant buttery sage sauce and pepper-crusted breast of quail.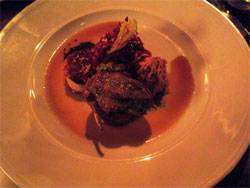 Vintage wines were served. A well-balanced, fruity Pinot Grigio Piane and a Colli Berici Tocai with deep hints of raspberries and strawberries. A Lison Pramaggiore Cabernet Franc and a Montello Merlot complemented the sublime cuisine. The dinner ended with a rich pear crème caramel laced with raspberry puree, and a sparkling Moscato dei Colli Euganei.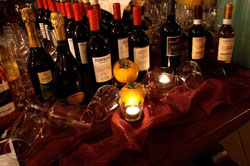 The Veneto is rich in history with lots of little towns and hamlets where organic wine and grape production goes on. Cucina casalingha, which is cooking of the home, abounds and wine from local estates is readily available.