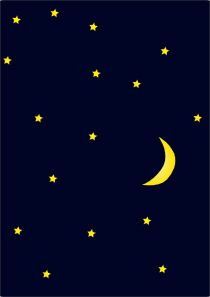 We had reservations for a "secret dinner" at an undisclosed location for the last 2 weeks that I sadly can't disclose to anyone. To say that I was very excited would be an understatement as I have always fantasized about what it would be like to have my own private dinner club, but that is a whole other story.
This saturday night in Maine it was very cold and clear, the sky was full of stars and just a perfect half moon guided our way as we barreled down country roads riddled with frost heaves for over an hour-heading for a small coastal "unnamed" town. We are instructed by an email sent just 2 days before to arrive at 6 sharp, but we arrived a half hour early and parked in front of the still dark location. We look at the facade of the old brick building for any sign of activity but there is none, just a soft light coming from the shuttered second floor windows. Our vehicle is one of only 3 cars parked on the whole of Main Street, every car that passes slows down and notices our presence. Do they know that we are waiting outside a underground dinner club or is it just something one does automatically when they live in a small Maine town. We feel a bit anxious – will dinner be good? Will the company be interesting?
At 6 p.m. sharp a dark haired women comes down the 20 steps to the front door with a piece of paper in her hand that looks like a list of names. She beckons us in and cautions us that the stairs are quite steep and to use care. At the top we separate the heavy velvet drapes to reveal the all white dining room decorated with tall glass vases filled with bright red tulips, birch sticks and Spring green moss. There are 4 rectangular tables set with 6 chairs at each. The dishes and glassware are modern and stylish, the collection of flatware is old, eclectic and well polished. Everything sparkles in the candlelight against the bright white walls lined with large photographs.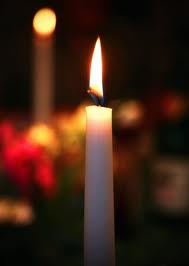 We arrived at the same time as another couple carrying a black and white Fauchon bag heavy with several wine bottles for each course. They seem a bit aloof and we opt to settle at a nearby table. At a comfortable distance away we take our chances that the guests that sit at our table will be more congenial. We are rolling the dice but isn't that the charm of the evening? The first couple that sits with us have been married for 62 years – he is overly excited, she is uneasy and thinks it is like a speakeasy. The last two seats are filled with a fun and interesting young couple – she is a Democratic political consultant on the national level and her partner was an electrician turned stay-at-home dad that now works at a local cafe as a cook. They had been to this "secret" place last week and were back for dinner again tonight.
At this point we really know nothing about the frequency of these dinners or even who is the brainchild of this evening. We are directed by the person that opened the door that the envelopes are best filled now with the 40 dollar donation and the glass vase is for tips for the waitstaff. The chalkboard has the 6 course menu displayed over three flickering candles and it starts with a sorbet and ends with ice cream with a Valentine-like sensual slant.
The room is filled with 21 other dinner guests by 6:30, most everyone knows each other. There is the granddaughter of the original building owner that explains how the building was laid out before the architect from away took over the space and transformed it into elegant NY style loft. The kitchen is hidden behind an antique white door with an opaque glass panel, but there are wonderful smells filling the air as everyone settles into their chairs. A young apronless woman appears, elegantly dressed with a blond Parisian-style page boy and she takes control of the room. She greets us and thanks us for coming to "her dinner club project". She introduces herself as Erin (no last name) and she takes a few minutes to explain each course of our evening's menu. Erin talks intelligently about each dish, how they evolved as she prepared them. How she would probably add a bit of local feta to the sauce for the lamb lollipops as she finishes the dish. It is a work in progress until the last moment which makes her menu so fresh, interesting, exciting and a lovely thing to be part of.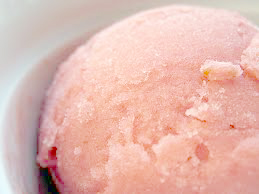 We started with a delicate pink sorbet made with Prosecco, hibiscus, rosebuds and pomegranate. A rather romantic combination of ingredients that were light handedly combined in a very intelligent and soulful way.
The second course was a celery root potage garnished with grilled toast that had a red relish of beets and pink grapefruit. The hot soup was poured from a large white tea pot around the toast at the table. The soup had a lovely flavor and silky texture but it was magical how seamlessly the sorbet and soup transitioned.
The main course was lamb rib chops from a local farm accompanied with a half piece of Kuri baked squash covered with braised kale and grains of farro. The lamb chops were unadorned and mismatched sizes but this just added to the charm of our dinner.
After dinner we were served a local greenhouse grown melange of baby greens raised by the middle school children of that town. This was served simply on a green, depression-era, chilled glass plate with a Champagne vinaigrette. Simple and so primal to eat greens that are alive at this time of year.
Dessert was a classic dense chocolate tart as smooth as silk served with a handmade pink peppercorn ice cream with an interesting floral tone and a gentle pepper bite. The combination was well executed and conceived. Erin's food is thoughtful, feminine and beautifully presented with a soulfulness by someone that clearly loves what they are doing.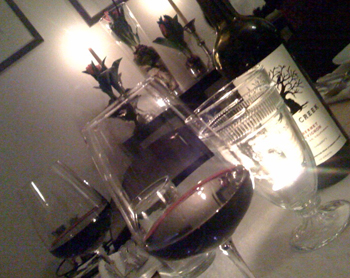 The last course was a rectangular white platter with 3 different Maine made cheeses that were exceptional, served with organic honey, plum jam, a fresh perfectly ripe Chilean plum and homemade poppyseed crackers. The cheese choices were perfect, served at just the proper temperature and aged to perfection. It was a nice way to finish our evening with the last of our red wine!
Erin rejoined us and offered to give us a tour of the kitchen where all the magic happened – I couldn't jump up fast enough. The kitchen was 15 feet by 15 feet, white modern cabinetry, azure blue stained wooden floor but the stove is what caught my interest – it was a four burner electric stove with a broiler in the oven. She lamented to me that she wished that she had a better stove and some ventilation other than opening the windows to which I responded that "you can either cook or you can't and you my dear can cook, period!"
Thank you for an amazing evening, food, conversation and a delightfully decorated room...
Brenda Athanus runs a small gourmet food shop in Belgrade Lakes, Maine with her sister Tanya called the Green Spot.
The Green Spot
This email address is being protected from spambots. You need JavaScript enabled to view it.This e-mail address is being protected from spam bots, you need JavaScript enabled to view it This e-mail address is being protected from spam bots, you need JavaScript enabled to view it
207.441.9327