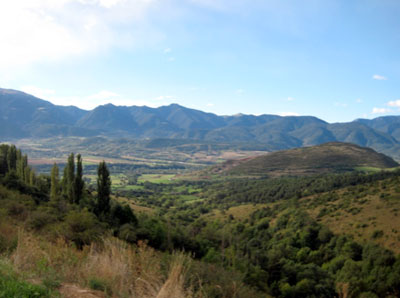 Tucked into the tiny village of Meranges, high in the Pyrenees of Spain and a stone's throw from both France and Andorra, is Can Borrell. In Catalan, the home language of Meranges, Can means house. This little treasure of a house is a very old inn with 6 rooms for guests and a restaurant that turns out fantastic breakfasts and dinners. We got to Can Borrell the hard way – taking a 5-hour drive with endless switch backs on a cliff-hugging road. This is deep in the Pyrennees, home to Catalan, French, and Spanish speakers in miniscule stone villages, lots of cows and sheep, and granite faced cliffs in the distance. We learned too late that there is a 2-hour drive from Barcelona complete with a tunnel that literally cuts through the mountains. For scenery, the long way is better viewing, but five hours of constant vigilance on mountain turns can be nauseating and exhausting, so I suggest the tunnel.
We saw only about 8 of the reported 75 residents of Meranges when we were there for a 4 day stay. There was the old woman with chickens and roosters living on her front patio which was just a few steps down from her bedroom, and another woman sweeping the steps of a small café which never seemed to be open when we wanted it to be, a farmer repairing his tractor alongside his wonderful loping spaniel that accompanied us on a morning walk, and the family that runs Can Borrell, Oliver Verdaguer, the chef, his wife Laura Forn, the manager who spent summers in Meranges as a child, and their 3 adorable and sturdy young sons.
The Inn is a jigsaw puzzle of attached rooms, some of which used to be a barn for sheep. The bedroom we stayed in, Number One, has a ceiling held up by what looks like the trunk of a fully-grown tree. Cows and horses lolled around below the window, and mountains and valleys continued as far as we could see. The rooms are simple, clean and comfortable – stone walls, pine furniture, neat and tidy bathrooms. This is not a contrived faux country kind of a place. This is the real deal. If Charlemagne had been smart, he would have stayed in Meranges on his way to establish an enclave in nearby Andorra. The stone buildings of Meranges seem that old.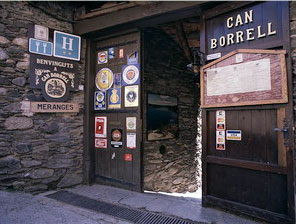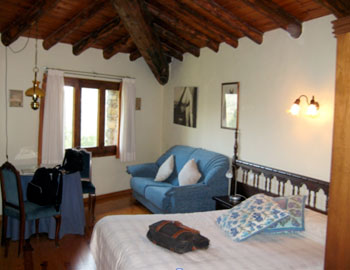 If the mountain vistas don't dazzle you, the food will. Everything served is made in the Can Borrell kitchen, which is a room open to the patio, so you can peek in and sniff the baked goods and the meals that await you. As we strolled around the first afternoon, Oliver was digging up a bunch of potatoes while Laura grabbed fresh herbs and vegetables from the garden, only steps from the hotel's front door. The food is billed as traditional Catalan style cooking, and we went from one sensational meal to the next. Particularly wonderful were the loin lamb chops cooked for 10 hours. They were moist inside with a carmelized crust sprinkled with sea salt. Another night we had a beef dish slow cooked in red wine Catalan style with rosemary and coarse salt, crispy and juicy, accompanied by those just picked potatoes and mushrooms. The appetizer salad, with a plate size disc of warm goat cheese, was wonderful. The tarte tartin started calling my name each morning when it came out of the oven, and at dinner they serve it with a small pitcher of warmed cream. One night they had crepes with sautéed apples and a dried fruit and berry compote. There are four pretty fabulous chocolate desserts on the menu, but we ran out of days and did not get to try them all.
For breakfast there is a choice between a Continental breakfast or a Catalan breakfast. Since all the croissants and breakfast breads are baked in-house, there are no losers with either choice. The Catalan breakfast includes a hunk of bread covered in local cheese, another hunk of crusty bread with a swipe of olive oil and tomato pulp, topped with a layered crown of Iberico ham. The Continental breakfast involves croissants and breads with good butter and jam, all served in the small breakfast room that serves as the wait staff's and family's dining room in the evening. Dinners are served in a large room with stone walls and a fireplace, windows looking out into the night, and stuffed goat heads (yes, goat heads) mounted on the wall.
There's an array of activities to do in the area – skiing in winter, lots of trails for hiking in warm weather. A group of bicyclists were in Can Borrell for dinner one evening, and when we drove back to Barcelona, wisely heading to the tunnel this time, a flurry of bright red hot air balloons hung in the sky. When our friend, Barcelona born and raised Javier, told us about Can Borrell, he said "good food, good hiking." Although we ate more than we hiked, he was right on both counts.
Can Borrell
17539 Meranges (Girona), Spain
Rachel Parker is a middle school teacher and home cook.