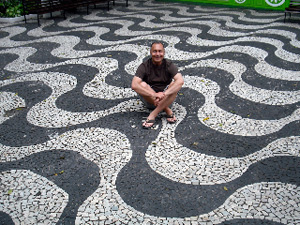 "We're sliding smack dab into the inevitably expensive tourist trap," you say as the taxi driver curses and swerves through the gridlocked traffic of Ipanema Beach's main drag Avenida Vieira Souto (with its famously geometric-patterned sidewalks) and onto the narrow traffic-choked streets of the city.
Your destination was suggested by our hotel's concierge whom you had asked for a suggestion for authentic Brazilian food. You were hoping for a cozy hole-in-the-wall filled with smoke, grumpy locals and slow waiters.
The restaurant, Porcão – which you immediately translated to Poor Cow – was just the opposite of that. Poor Cow was all you feared, expensive and a tourist trap (adding to the blah decor was a wall-size TV playing a silent futbol match), exactly like those places that have popped up all over major U.S. cities where frantic waiters bring huge stumps of grilled meat to your table, where they slice off chunks in perpetuity until you feel as if you've ingested a small cow. But you were hungry and jet lagged and needed to get out of the hotel or you would have gone right to sleep only to wake up in the middle of the night, hungry and jet lagged. You felt like a bad tourist, but the outing served its purpose and besides, you have something special to look forward the next day – Cook In Rio – a one-day cooking class at some lady's house in Copacabana that you had found online. An authentic Brazilian experience was promised and this time you are not disappointed.
You arrive promptly at 11 a.m.
"This can't be it," you say as you double-check the address. But suddenly the doors fly open and a beautiful, beaming woman welcomes you like long-anticipated relatives. She's Carioca restaurateur Simone de Almeida, who started teaching Brazilian cooking to visiting friends from other countries and subsequently found herself with a new business. Now, her small cooking classes are sought out by visitors from all over the world.
Another couple is already there. They've done this before and know that if you arrive early enough you can go shopping for ingredients with Simone. You feel a pang of envy and again feel like a bad tourist. You should have known this! It would have been so cool!
The apartment is small and clean and filled with light. The kitchen is even smaller. A lot of elbows bump as the evening progresses, so much so that after a while no one bothers to say "Ooops, sorry," anymore.
Simone starts with the first vital step of a good cooking endeavor: the cook's drink. Although there's a generally relaxed attitude to measures when it comes to Caipirinhas (what else?), Simone gives guidelines of one lime per person and two dessert spoons of sugar muddled with ice and a generous dose of quality cachaça and makes sure all the students get involved in the making.
"Brazilian cooking is simple, all you need is the magic ingredient," she says, "and that is you. The love and respect and enthusiasm you bring is what makes the food taste unforgettable."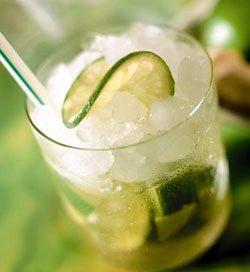 Sipping on classic Caipirinhas, Simone goes on to get the class making rice, banana farofa and deep fried aipim chips. The palm oil has to be very hot for the aipim chips to cook properly and to ensure this, Simone throws a match stick into oil while you take a quick step back. Eventually the matchstick bursts into flames but miraculously the kitchen doesn't. "Now it's hot enough," she says.
While everyone makes the side dishes together, Simone explains a little of the history of the national cuisine.
"Brazilian food is essentially a big melting pot mix of Portuguese, African and Indian flavors. It has its roots in slave food because they cooked for the rich Portuguese colonials and influenced the cuisine with African flavors and techniques."
And she tells us about Princess Isabel, who freed the slaves in 1888 when she signed The Golden Law.
"Like Abraham Lincoln's Emancipation Proclamation," you venture.
"Yes, but nobody shoot her for it," Simone volleys back eliciting giggles she doesn't' seem to understand. "Anyway," she adds with a shrug, "you have an African president now, no?"
A candor that may seem brutal at times is a common trait among Brazilians. Before the trip, anxious about the long flight (you've lately developed a mild fear of heights) and to get some travel tips, you had lunch with my Brazilian friend, the journalist Cintia Sandor.
"Isn't it like ten hours to get there," you asked.
"Listen," she said smiling but incapable of sugarcoating anything ever for as long as you've known her, "from your doorstep in West Hollywood to the door of your hotel room in Rio, it will take exactly twenty-three hours."
And it was, almost exactly twenty-three hours.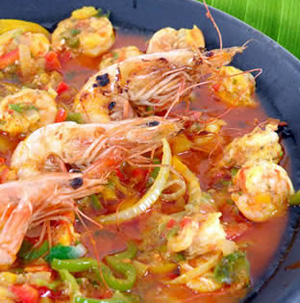 Simone is a lot like Cintia, but maybe because she's a hostess and not a journalist, she's much more lively and animated and deftly skilled at ensuring everyone is at ease and involved, this is an informal communal effort. Even when you screw up, she remains optimistic that the meal will be um grande sucesso. You get busy chopping onions, peeling garlic, slicing green, yellow and red peppers, adding linguica, rolling things in manioc flour, and sautéing just about everything in palm oil. Soon not just the kitchen, but the whole apartment is thick with a delicious aroma.
"This is important," Simone says. "In Brazil if you are cooking and the neighbors don't know it, there is something very, very wrong."
The main dish of this particular class was the Bahian fish stew moqueca. As the broth simmers, Simone answers questions and continues to dispense tips and insights into Brazilian food.
Advice such as always buy the cheap palm oil ("look for the ugly bottles") because the small producers are the best, and be polite with the chili sauce and leave it for people to add themselves ("Bahians like their food spicy but Cariocas don't"). And, forget measurements, you cook by taste and smell, it's the only way.
Everyone sits down together to eat the deliciously rich coconut fish stew washed down with a pineapple Caipirinha.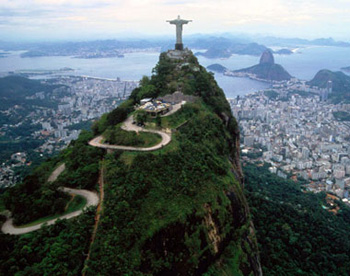 Tomorrow you'll be a normal tourist again. You will climb Corcovado Mountain to take pictures with Christ The Redeemer, and you'll even brave the scary, dangling cable cars 1,299 feet to the top of Sugarloaf Mountain. But tonight, as you tuck into our homemade moqueca those twenty-three hours from West Hollywood to Rio De Janeiro just vanish. You feel totally at home. It's nearing 6 p.m., early for Rio where the evening meal begins at around 10 p.m., but you linger for hours, tasting, savoring, devouring and particularly laughing at cultural differences and our human similarities. You get to know the other well and for one brilliant moment as you glance out the window to the big city below, you feel you know Rio from the inside.
Faça bom proveito!
MOQUECA – BRAZILIAN FISH STEW
Soup:
1 1/2 to 2 lbs of fillets of firm white fish such as halibut, swordfish, or cod, rinsed in cold water, pin bones removed, cut into large portions
3 cloves garlic, minced
4 Tablespoon lime or lemon juice
Salt
Freshly ground black pepper
Palm Oil
1 cup chopped spring onion, or 1 medium yellow onion, chopped or sliced
1/4 cup green onion greens, chopped
1/2 yellow and 1/2 red bell pepper, seeded, de-stemmed, chopped (or sliced)
2 cups chopped (or sliced) tomatoes
1 Tablespoon paprika
Pinch red pepper flakes
1 large bunch of cilantro, chopped with some set aside for garnish
1 14-ounce can coconut milk
Rice:
1 Tablespoon Palm oil
1/2 onion, chopped
1 clove garlic, minced
1 cup white rice
1 3/4 cups boiling water (check your rice package for the appropriate ratio of liquid to rice for the type of rice you are using)
1 teaspoon salt
Directions:
Place fish pieces in a bowl, add the minced garlic and lime juice so that the pieces are well coated. Sprinkle generously all over with salt and pepper. Keep chilled while preparing the rest of the soup.
If you are planning on serving the soup with rice, start on the rice. Bring a couple cups of water to a boil. Heat one Tbsp of palm oil in a medium saucepan on medium high heat. Add the chopped 1/2 onion and cook, stirring, until the onion is translucent. Add the garlic and cook for 30 seconds more, until the garlic is fragrant. Add the raw white rice and stir to coat completely with the oil, onions, and garlic. Add the boiling water. (The amount depends on your brand of rice, check the package. If no amounts are given, add 1 3/4 cup of water for every cup of rice.) Stir in 1 teaspoon of salt. Bring to a simmer, then lower the heat, cover, and let cook for 15 minutes, after which, remove from heat until ready to serve with the soup.
Back to the soup. In a large covered pan (such as a Dutch oven), coat the bottom with about 2 tablespoons of palm oil and heat on medium heat. Add the chopped onion and cook a few minutes until softened. Add the bell pepper, paprika, and red pepper flakes. Sprinkle generously with salt and pepper. (At least a teaspoon of salt.) Cook for a few minutes longer, until the bell pepper begins to soften. Stir in the chopped tomatoes and onion greens. Bring to a simmer and cook for 5 minutes, uncovered. Stir in the chopped cilantro.
Use a large spoon to remove about half of the vegetables (you'll put them right back in). Spread the remaining vegetables over the bottom of the pan to create a bed for the fish. Arrange the fish pieces on the vegetables. Sprinkle with salt and pepper. Then add back the previously removed vegetables, covering the fish. Pour coconut milk over the fish and vegetables.
Bring soup to a simmer, reduce the heat, cover, and let simmer for 15 minutes. Taste and adjust seasonings. You may need to add more salt (likely), lime or lemon juice, paprika, pepper, or chili flakes to get the soup to the desired seasoning for your taste.
Garnish with cilantro. Serve with rice or with crusty bread.
Serves 4.
Eduardo Santiago is the author of the award-winning novel, Tomorrow They Will Kiss.