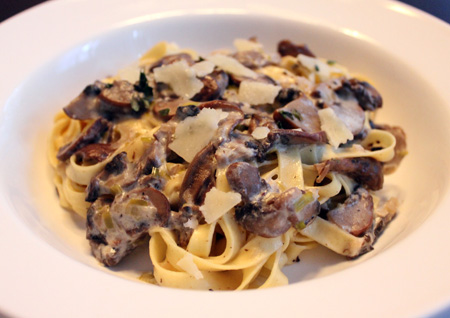 (Makes enough for about 36 ravioli or pasta sauce for two healthy portions)
Fresh Ricotta:
1 cup whole milk
1/2 cup heavy cream
1/2 teaspoon salt
1 tablespoon vinegar
In a small saucepan, heat the milk, the cream, and the salt until it starts to boil. Take off heat and stir in the vinegar. Let sit 5 minutes. Pour into a sieve lined bowl, covered with cheesecloth and let sit, for at least 1 hour – but the longer the better.
Wild Mushroom Sauce:
1 tablespoon butter
1 tablespoon olive oil
1 small shallot
Salt to taste
1 garlic clove, minced
1/2 pound assorted wild mushrooms (chanterelles, porcini, cremini, shiitake, oyster, etc.), sliced
1 sage leaf, chopped
1 tablespoon fresh thyme, chopped
1/2 cup dry white wine
Freshly ground pepper
Ricotta from above
Parmesan
In a large saucepan, heat the butter and the oil until the foam subsides. Stir the shallots in with a dash of salt and cook over medium heat until the shallots are softened and starting to brown, about 3 minutes. Add the garlic and cook for 30 seconds.
Add the mushrooms, the sage, the thyme, and another pinch of salt and sweat over medium-low heat until the mushrooms soften and release their juices – about 7 minutes.
Add the wine, turn the heat up to medium high and cook for another 5 minutes, stirring gently. Add the fresh ricotta.
Sprinkle with freshly grated parmesan, salt and pepper to taste.
- Recipe courtesy of Alison Wonderland Tucker's blog A Wonderland of Words.