Retail Therapy
by Hanina Stettin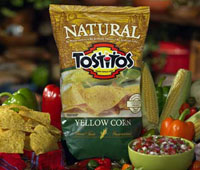 I can't help it. I really can't.
When I go into a grocery store and I put an avocado in my cart, I think "Ohmigoshwhatifsomeonecomesoverandwantschipstoo?" And so I go and buy chips. Two kinds. Because what if a friend has a craving for blue corn instead of yellow? G-d forbid I should not have blue corn tortilla chips in the house. That's thought one.
Thought two is more like "hmm, never heard of that before. Maybe it would add a nice kick to stir-fry." And so I put the odd looking, non-English labeled jar into the cart, too.
By the time I've made it through the first few aisles and thrown in everything I or my roommate could possibly need in the next week (or month), I'm usually just plain hungry. Clearly, that's trouble. You remember being a teenager in the grocery store and your mom opening up a bag of something "just to snack on while we shop"? Mortifying. And, of course, exactly what I do now.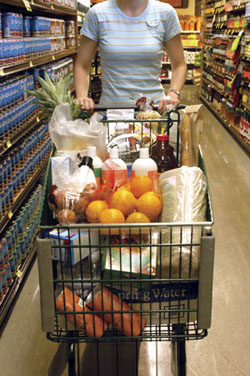 Grocery shopping is about turning into my parents. As I trail crumbs through the aisles, I become my mom. And then, as I reach for the weirdest thing I see (most of it's not in English), I become my dad. Enter a store and voila! Instant channeling.
It's my retail therapy only my retailers are Trader Joe's, Vons, and, if I'm feeling particularly spendy, Whole Foods. Grapes? I've got them. Pasta? By the case. And ice cream? I've filled my cart too many times over to start counting the half gallons and pints.
I've relaxed a bit over the years. Sometimes, I even let my fridge get down to the last bit of chevre and a lonesome looking bok choy. But when the urge hits, I rarely fight it. I head to the grocery store and allow myself to be swept up in fantasies of beautiful couscous and lamb tagines or spoonfuls of chocolate ice cream smothered in whipped cream, and as my shopping cart fills up, I relax. And seeing my credit card bill at the end of the month sends me straight back to the store.

A Los Angeles native, Hanina Stettin currently works at Mama's Kitchen in downtown San Diego.

New York


by

Michael Tucker





"Have you ever been to Eisenberg's?" This question from my daughter, Alison. "Shannon and I went after the gym the other day," she says. "Best Reuben I've had in a long time. You should check...

Read more...

New York


by

Michael Tucker





The weather turned yesterday.

The air was suddenly, blissfully free of the sodden end-of-summer heaviness and the scent of August — that heady perfume of sixteen million sweaty feet in sandals —...

Read more...

New York


by

Michael Tucker





To celebrate my vegan's birthday, I called Kajitsu on 9th street in the East Village and made reservations. Actually, I had serious reservations. Kajitsu is Shojin cuisine, which means we'd be...

Read more...

New York


by

John Scurti





My new best friend, Laraine Newman, recently took me to Carmines here in Los Angeles, an old school Italian joint that was once the stomping grounds of the Rat pack. From what I heard, there was...

Read more...