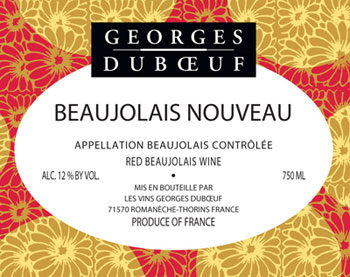 Choosing a wine for the Thanksgiving table does not have to be as difficult as many make it seem. With the variety of competing flavors of Thanksgiving, it may seem difficult to find the perfect pairing. Finding a wine that goes with everything is key. And there are plenty of wines available in the market that accomplish the task. But you definitely don't want an overpowering wine or a lightweight wine that doesn't stand up to the many different dishes. Look for a fruity medium-bodied wine with good tartness or crispness. It has to cut through the rich autumnal flavors as well as complement the roast turkey. Pinot Noir and Chardonnay are among the best wines for Thanksgiving, but a few other, more unique choices are available too. The following wines are all fruit-forward, food-friendly, and suitable for a whole range of tastes. Surprise your guests with one or more of these picks.

Beaujolais Nouveau is one of the most popular wines this time of year. Every third Thursday in November France releases it into the world with much lauded fanfare and drop ships it to locations worldwide. After the grapes are harvested, the juice is only fermented for a few weeks before becoming wine. The wine from négociant Georges Duboeuf is the easiest to find in wine stores across the country, but many other brands can also be procured. Beaujolais is made from the Gamay grape in the Burgundy subregion of the same name. The resulting wine is very fruity with a light to medium body with nice tartness but low tannins. It's the perfect red wine to go with poultry, especially turkey or chicken. This wine is possibly one of the only reds that can benefit from slight chilling, but try it at different temperatures to see which is more appealing. Drink it while it's young, the wine is not meant for aging.
A few years ago I discovered this special Austrian wine grape variety. Zweigelt is a hybrid cross between Blaufränkisch and St. Laurent grapes created by Austrian biologist and viticulturist Fritz Zweigelt. Surprisingly, it is the most widely grown grape variety in Austria, but it is not well known elsewhere. Here in America we mostly know of Austrian white wines like Riesling and not the country's many exceptional reds. The region is characterized by a mild climate, ideal for growing wine grapes. The wine is medium to full-bodied, fruity, and has a hint of minerality and spiciness. It has a similar flavor profile to that of Beaujolais. It is very food friendly and makes an exceptional pairing with many roast meats, especially turkey.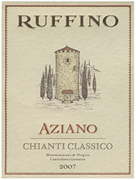 You can't go wrong with Italy's most famous wine, Chianti. A blended wine, Chianti is comprised of mainly the Sangiovese grape variety and a few other regulated varieties. It's a classic Italian wine, just think of the bellied bottles encased in a straw basket, that has become famous enough to be termed the Bordeaux of Italy. This Ruffino Aziano Chianti Classico is specifically made up of 80% Sangiovese with the remaining 20% from a combination of Cabernet Sauvignon, Merlot, and Canaiolo. The wine is aged in stainless-steel tanks and thus retains the pure fruity character. It has intense aromas of plums and cherries with smooth tannins and a medium body. With some age the flavor profile can turn toward tobacco and chocolate. It is a great choice for any meal including the Italian pasta favorites, but works exceptionally well for the holiday table from Thanksgiving until Christmas.

Albariño, a very old white wine grape variety grown in the Rías Baixas region of Galicia, Spain, has been compared to German Rieslings, sharing similar characteristics of fruitiness, floral fragrance, and off-dry crispness. Typically it pairs well with seafood and spicy-hot dishes, but Albariño also makes a wonderful complement to the spices of the Thanksgiving table. It is usually aged in stainless steel tanks and like Riesling has no oak flavor. It's off-dry character and salinity, a result of Galicia's coastal Northwest location, will appeal to even the fussiest of palates. It's great with white flesh, such as fish, chicken, or turkey and stands up to the many flavors of Thanksgiving. Serve chilled and the flavors will be even more present.