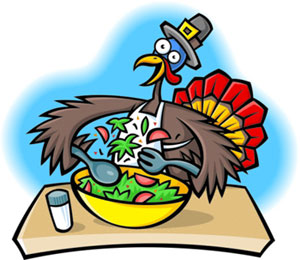 10. Brine the bird. It's easy to do and can metamorphose your turkey from tasteless and dry to juicy and scrumptious. For an 18-20 pound bird, line very large (about 16-quart) bowl with two 30-gallon plastic bags, one inside the other. Rinse turkey inside and out. Place turkey in plastic-lined bowl. Combine 7 quarts water, 2 cups coarse salt, 1 cup packed brown sugar, 1 cup mild molasses, 1 bunch thyme, and 1/2 bunch sage in large bowl or pot. Stir until salt and sugar dissolve. Mix in ice cubes. Pour brine over turkey in plastic bags. Gather tops of bags together, eliminating air space above brine; seal bags. Refrigerate turkey in brine 18 to 20 hours. But WAIT! Whatever you do, don't brine a Kosher bird for he has already been brined and will become too salty if you do it again.
9. If your husband, father, brother, uncle or neighbor wants to fry the turkey, let him. Nothing makes a man happier than to wrestle a turkey into submission via hot oil. I couldn't care less if the bird was fried or roasted as long as the turkey tastes good and stays moist. If it keeps them out of the kitchen for a while, they should absolutely be encouraged to fry, fry, fry.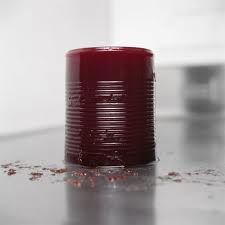 8. Homemade cranberry sauce is easy to make and more delicious than any preservative filled B.S. you'll find on a shelf in the store. But I know you love the sound of the jelly when it plops out of the can, so do as you will.
7. Mashed potatoes should contain so much butter and half and half that you become a little terrified you might kill your guests when you make it. I also believe that mashed potatoes should always contain a little bit of freshly ground nutmeg.
6. Granulated tapioca is the best thickening agent for apple pies and the best pies contain at least 4 different kinds of apples.
5. A little bit of port poured over the turkey in the earlier stage of the roast will boost both the flavor and color of your bird, but be careful not to overdo it.
4. If your kids want marshmallows on their sweet potatoes you should let them have it – even if your kids are in their 40's.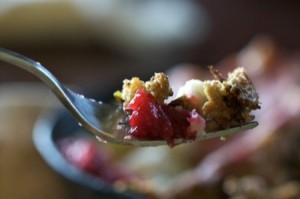 3. If you can figure out a way to do it, get to the gym or go for a long walk the day before Thanksgiving. Your mind will thank you, your ass will thank you and your family won't know why you're so even-keeled.
2. The best bite on Thanksgiving Day is one that combines tidbits of everything on your plate.
1. And the number one way to not lose your mind on Thanksgiving day… Is to make this stuffing.
New England Sausage Stuffing with Maple Corn Bread
yield: Makes 16 servings
2 pounds breakfast-style bulk sausage (I like 1 pound sweet Italian sausage, 1 pound breakfast sausage or maple breakfast sausage)
1/2 cup (1 stick) unsalted butter
1 3/4 pounds Granny Smith apples, peeled, cored, chopped
1 pound onions, chopped
4 large celery stalks, chopped
1 cup chopped celery leaves
9 cups coarsely crumbled day-old Maple Corn Bread
4 large eggs
1/2 cup canned low-salt chicken broth
1 teaspoon salt
1 teaspoon ground black pepper
1 tablespoon chopped fresh sage
1 tablespoon chopped fresh thyme
1/4 teaspoon ground allspice
1/4 teaspoon ground nutmeg
1) Sauté sausage in heavy large skillet over medium-high heat until cooked through, breaking up finely with back of fork, about 10 minutes. Using slotted spoon, transfer sausage to very large bowl. Melt butter in same skillet over medium-high heat. Add apples, onions, and celery stalks; sauté until very tender, about 12 minutes. Add celery leaves and stir 30 seconds to wilt. Add mixture to bowl with sausage. Stir corn bread into sausage mixture. Whisk eggs and all remaining ingredients in medium bowl to blend. Mix into stuffing.
2) To bake all of stuffing in baking dish:
Preheat oven to 350°F. Generously butter 15x10x2-inch glass baking dish, depending on recipe. Transfer stuffing to prepared dish. Cover with buttered foil, buttered side down. Bake until heated through, about 40 minutes. Uncover and bake until top is slightly crisp and golden, about 20 minutes longer.
Maple Corn Bread
yield: Makes 10 to 12 servings
Make it one day ahead.
2 1/3 cups yellow cornmeal
1 cup all purpose flour
4 teaspoons baking powder
1¼ teaspoons salt
1/2 cup (1 stick) chilled unsalted butter, cut into 1/2-inch pieces
1 1/3 cups buttermilk
4 large eggs
1 cup pure maple syrup
1)Preheat oven to 375°F. Butter 9x9x2-inch metal baking pan. Combine cornmeal, flour, baking powder, and salt in processor; blend 5 seconds. Add butter; process until mixture resembles coarse meal. Whisk buttermilk, eggs, and maple syrup in large bowl. Add cornmeal mixture; stir just until evenly moistened (do not overblend). Transfer to prepared pan.
2) Bake bread until golden and cracked on top and tester inserted into center comes out clean, about 45 minutes. Cool bread in pan on rack. (Can be made 1 day ahead. Cover; store at room temperature.)
Alison Wonderland Tucker is a chef and caterer who lives and works in New York City. She writes about her love of food and life as a chef on her blog A Wonderland of Words.