From the LA Times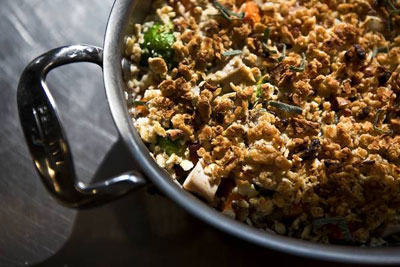 The annual Thanksgiving feast is a time when home cooks enjoy pulling out all the stops and preparing copious amounts of tradition-loaded dishes to share with friends and loved ones. This excitement often leads to preparing enough food to satisfy roughly twice the number of guests you plan on hosting. But that's not necessarily bad, because it has spawned another equally beloved culinary tradition: Thanksgiving leftovers.
If the traditional Thanksgiving feast is inherently American, then the ongoing use of the surplus it generates is really a nod to the custom universal to good cooks, of making the most out of each ingredient's every part.
Experimentation and exploration are the true loves of any successful cook. This year I challenge you to move beyond your typical leftover-based dishes and to consider broader possibilities. Don't let anything go to waste, not the vegetables or the stuffing or the bones and trimmings of leftover turkey. This doesn't mean repeating the same old things over and over. Use this as an opportunity to push yourself beyond comfortable dishes and explore new flavors. And look afresh at the familiar and see what new forms it might take.
These recipes provide you with a starting point. They are ideas that take into consideration what kinds of leftovers you might have on hand and what kinds of meals you plan to serve.