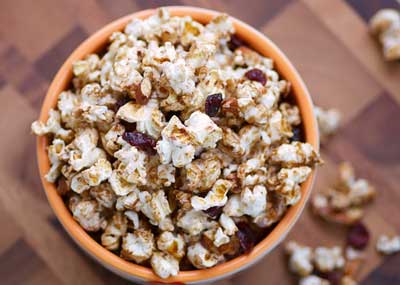 You've heard of Thanksgiving stuffing, Thanksgiving pumpkin pie and Thanksgiving turkey. But have you heard of Thanksgiving popcorn? Of course you haven't. That's because I just created it.

Why "Thanksgiving" popcorn? Read on.

I handed Jeff a bowl of popcorn and said, "Here, try this." He ate a couple of handfuls and said, "This is the best popcorn you've ever made."

"Really?" I said. (I thought my best was my maple walnut popcorn.)

He took another handful and tossed it in his mouth. "Oh, yeah. This is definitely the best. What's it called?" he asked.

"I don't know. I can't think of a name I like," I said.

"You should call it Thanksgiving popcorn. It's got all the flavors and smells of Thanksgiving," he said.

And that, my friends, is how today's popcorn got its name. Hmmm... I wonder if I can get my own Wikipedia entry for it.
Thanksgiving Popcorn
Yields 10-12 cups

This popcorn is a fun, kid-friendly appetizer or dessert to serve on Thanksgiving Day and pairs deliciously with mulled apple cider. If you really love pumpkin pie spice, then use it in place of the apple pie spice and call it "Pumpkin Pie Popcorn."

3 tablespoons canola oil
1/2 cup popcorn kernels
3/4 cup coarsely chopped pecans, almonds, or walnuts
1/2 cup dried cranberries

2 tablespoons butter
1/2 cup pure maple syrup
4 tablespoons light brown sugar
1 teaspoon salt
1/2 teaspoon black pepper
2 heaping teaspoons apple pie spice seasoning

1. Preheat oven to 325 degrees F. Coat two large rimmed baking sheets with cooking spray or aluminum foil.

2. Pour oil in a large saucepan over high heat and cover. After about 1 minute, listen for the shimmering oil as it heats up, then drop a couple of kernels in the pan. When they start sizzling and spinning, the oil is ready. Add remaining kernels. Cover the pan, and give it a couple of shakes so the kernels get coated with oil. Now listen for the popping. Once it really starts popping quickly, listen carefully. Remove the pan from the heat once the popping slows down to every few seconds, or it could burn quickly. Pour popcorn into a big bowl coated with cooking spray, and add nuts and dried cranberries.

3. In a small saucepan over medium heat, bring butter, maple syrup, brown sugar, salt, and black pepper to a boil. Cook 1 minute. Add apple pie spice. Lower to a simmer for 2 minutes. Cool for 5 minutes. Pour syrup over popcorn and nuts, stirring to coat. Spread the popcorn mixture on to the prepared baking sheets. Bake for 10 minutes. Remove from oven and cool. Break into small clusters.
Susan Russo is a free lance food writer in San Diego, California. She publishes stories, recipes, and photos on her cooking blog, <Food Blogga and is a regular contributor to NPR's <Kitchen Window. She is also the author of Recipes Every Man Should Know
and The Encyclopedia of Sandwiches
.