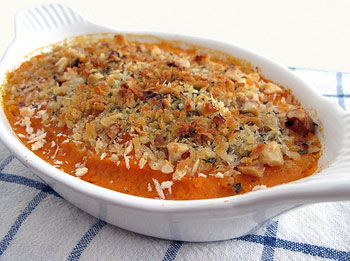 Thanksgiving isn't complete without some sort of sweet potato dish. There's the traditional marshmallow-topped sweet potato side dish or the classic dessert of sweet potato pie. Sweet potatoes are almost magical when cooked or baked. Their bright orange flesh turns soft and almost creamy. Roasting them heightens their natural sweetness even more. Many holiday recipes further improve upon the sweetness by adding brown sugar, honey, or maple syrup. With the holiday only one week away, it's time to start planning. I'll be making a few new recipes to add to my repertoire.

Sweet and savory flavors are the basis of many classic Thanksgiving recipes. This side dish strays from the typical in favor of something a bit more gourmet and savory. Roasted sweet potatoes are mashed with butter, cream, and maple syrup and then spread in a gratin dish. The mashed sweet potatoes are then topped with fluffy panko breadcrumbs, fresh sage, and chopped walnuts. It's then drizzled with melted butter and broiled, turning the top golden and crunchy. It's a side dish that's sure to please both sweet potato traditionalists and those looking for a new take on a holiday favorite.

The first thing to know about sweet potatoes is that they are not yams. Yams, which are native to Africa and Asia, are a completely different vegetable. Yams are white and starchy. Sweet potatoes are orange and sweet and are distantly related to white potatoes. This confusion only really exists in North America. Unfortunately the USDA continues to label sweet potatoes and yams, which adds to the confusion. Just know that sweet potatoes are what you're looking for to make this recipe.

Mashed Sweet Potatoes with Sage and Walnut Topping

4 pounds sweet potatoes (about 8 medium)
4 tablespoons butter
1/2 cup heavy cream
1/4 cup maple syrup
fine sea salt
freshly ground black pepper
1/2 cup panko Japanese breadcrumbs
1/3 cup coarsely chopped walnuts
1/4 cup finely chopped fresh sage
4 tablespoons melted butter

Preheat oven to 375 degrees F. Prick sweet potatoes all over with a fork. Place on a rimmed baking sheet and roast until fork tender, about 1 hour. Let cool slightly before handling.

Peel potatoes and add to a large bowl. Mash with butter. Pour in cream and maple syrup; mix to combine. Season with salt and pepper. Spread potatoes in 2 small gratin dishes or 1 large baking dish.

In a small bowl, combine breadcrumbs, walnuts, and sage. Season with salt and pepper. Scatter mixture over sweet potatoes. Drizzle over with melted butter. Set in oven and warm through, about 10 minutes. Set under broiler for 5 minutes or until top is golden brown. Serve immediately.
Yield: 6 to 8 servings.
Joseph Erdos is a New York–based writer and editor, butabove all a gastronomer and oenophile. He shares his passion for foodon his blog, Gastronomer's Guide , which features unique recipes and restaurant reviews among many other musings on the all-encompassing topic of food.