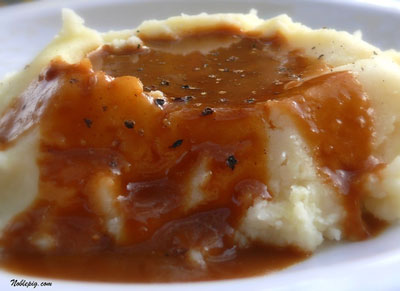 Contrary to popular belief, you don't need a whole turkey to make gravy. However, you must slow-roast turkey to get good gravy.
I have to admit I have witnessed some pretty seasoned cooks have complete breakdowns at Thanksgiving when it comes time to gravy making. There is just too much going on at that moment; the bird is out of the oven, they are trying to deglaze the pan, the side dishes are almost ready or are getting cold, there are too many people around...let's face it, gravy anxiety is real.
However, all of this pandemonium can be eliminated with a little planning. The secret is turkey wings from the grocery store. Every store has them and they are so cheap. When you roast the wings with celery, onions and garlic, you have the makings of a perfect turkey stock which you will make into the perfect gravy. This can be done months ahead and frozen, taking out the stock when you need it.
On Thanksgiving you can make the gravy while the bird is in the oven as opposed to when it's out, which many of you know is a very stressful activity.
This is also perfect for those of us who love to deep fry their turkeys and pan drippings are not available.
So relieve your stress this year and make gravy ahead of time.
Give it a try...
Make Ahead Turkey (Thanksgiving) Gravy
Makes 2-1/4 cups
2 turkey wings
4 ribs of celery, roughly chopped (use leaves too)
1 onion, cut into chunks
4 cloves garlic, smashed
6 cups water
4 Tablespoons unsalted butter
4 Tablespoons all-purpose flour
2 cups turkey stock, strained and defatted
1/2 cup whole milk
1 teaspoon apple cider vinegar
Kosher salt to taste (I used 1/2 teaspoon)
Preheat oven to 375 degrees and in a large sauté or roasting pan (I use my large Dutch oven), roast turkey wings, celery, onion and garlic for 2 hours. Remove from the oven.
Add water and bring to a boil. Turn down heat and simmer on low for one hour, uncovered. Stock will reduce.
Strain the stock into a bowl with at least a 4 cup capacity. Place liquid into the refrigerator for at least 2 hours or overnight and remove the fat accumulated on top.
In a large sauté pan, melt unsalted butter and whisk in flour. Cook, whisking constantly over medium heat for two minutes. This will cook out the flour taste. Whisk in defatted turkey stock and cook until thickened. (The gravy should coat the back of a spoon.) Add milk, cider vinegar and salt to taste. If by some chance you cannot get your gravy as thick as you like it, don't panic. It's always possible you measured something wrong.
In an emergency, you can always dissolve 1 teaspoon of cornstarch in one teaspoon of cold water and SLOWLY add it to the gravy while whisking. It will be fine. Just remember, gravy often thickens up a bit when it's off the heat and you want a nice pourable liquid for all those lovely side dishes.
Cathy is currently in the development stages of her vineyard and winery in the Willamette Valley of Oregon. She is a food writer forDavis Life Magazine and blogs daily about wine, food and everyday living. She lives with her husband and two sons. You can visit her at noblepig.com.