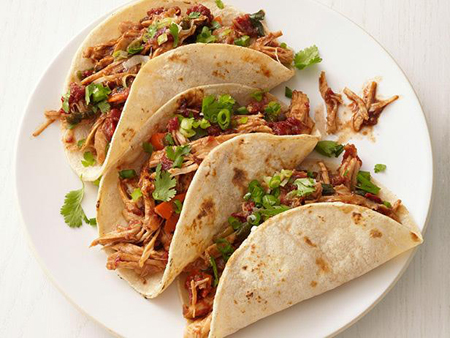 You probably snuck down into the kitchen at midnight after Thanksgiving dinner and made yourself a sandwich – come one, you know you did. White bread, mayo, cranberries, turkey, lettuce, toasted or untoasted, you couldn't help yourself. And the next day the stuffing was awfully tasty, too.
But now it's day three and there's still a lot of meat on the turkey carcass – not because it wasn't good – but because you couldn't resist making five sides and someone insisted on mashed potatoes as well as sweet and Brussels sprouts, even though you'd already planned (and were not willing to give up) your mother's green beans with toasted almonds, not to mention three pies and that chocolate cake that someone slipped onto the dessert display (or rather slipped into the oven) and then onto the cake plate because it wouldn't be Thanksgiving without a cake, too!!
So, what do you do with the leftover turkey meat. I know the answer, partly because I live in L.A. and it's the answer to everything leftover (practically.) But also because it's a complete change of pace and won't feel like leftovers.
Make turkey tacos and a couple of simple Mexican sides!!
The Easiest Turkey Tacos
Shred the leftover turkey almost into strips, liberally mixing the dark meat with the white.
Slice a green pepper into thin strips, ditto a yellow onion into thin rounds cut in half.
Sautee in either grapeseed oil or olive oil on low. Heat the onion and pepper. If you're feeling brave add a fresh chopped Jalapeno pepper (totally unnecessary.) Sprinkle with a half a teaspoon of cumin as you saute them and mix well.
When the vegetables are softish, add two small chopped tomatoes, let them soften and almost turn into juice. Throw in the turkey strips and saute until warm but not crispy about three minutes. If you like heat, add a little hot sauce at this point and toss well.
Add a half a cup of canned chicken broth (or home-made turkey broth if you have any leftover.) Cook for another two and a half minutes or so and voila…instant taco meat!
Heat flour tortillas in the oven and serve with guacamole, black beans, shredded cheddar, salsa, and, if you haven't already over extended your calorie consumption for the year, sour cream!!