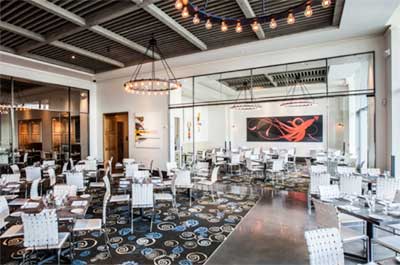 Caracol is not my idea of a Mexican Restaurant. My idea of a Mexican restaurant is that small family owned local café in Toluca Lake or Carmen's on 3rd St. that we would go to on Thursday night, and I would chow down on buttered tortillas with beans and rice while the rest of the family ordered the "regular."
In Houston where my grandmother lived, we would go to Felix's, but by then I was eating everything on the menu. Their décor was tipico (and we all know the painted plates and over sized sombreros that hung on the walls). Cozy and dark, familiarity bred joy and a deep sense of comfort – not contempt. (Let's not discuss the ubiquitous swinging singles Mexican bars with their multi-colored chips that proliferate the landscape.)
No, Caracol is definitely not tipico! The painted plates have been replaced by a 16 foot contemporary painting of a giant red squid – the main focal point in a bright, relaxed but sophisticated white and black interior, and while you can get beans and rice, don't expect a "regular" anywhere on the menu.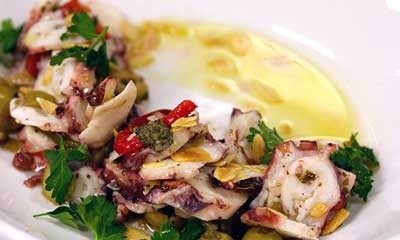 What you can expect is a brilliant selection of fresh seafood enhanced by all the delicate flavors that mark regional Mexican Coastal Cuisine. For example, the menu offers a variety of Ceviche starters: Ceviche de Caracol - conch, pineapple, ginger, and red jalapeno; Ceviche de Callo de Hacha - scallop ceviche, mango, papaya, cucumber, and jalapeno; and Ceviche de Atun - tuna, young coconut, macadamia, ginger, habanero.
Also for starters gulf oysters wood - roasted with chipotle butter and for the serious carnivore "Texas T Kobe" Carne Apache - Kobe tri-tip, jicama, corn, squash, avocado-tomatillo salsa. I had the Langosta Puerto Nuevo – charcoal grilled lobster tacos with playa la ropa beans, and a delicious salsa.
Entrees, if you can pull yourself from the appetizers, do not let one down: "today's catch" – in our case, butterflied snapper wood-grilled in a basket; Arroz a la Tumbada, mixed shellfish, frog legs in a rich broth and rice; Pato en Pipian Rojo - crispy duck, duck molote, chard, red pumkin seed sauce; and Canita de Puerco con Mole Costeno Amarillo - pork shank, yellow Oaxacan chile, pasilla and ancho pepper sauce. (Pasilla and ancho in one sauce - Be still my heart!)
Oh, and Tamal Aztca - a layered, meatless, creamy tortilla casserole that brought my inner child onto the table doing cartwheels. Didn't get that at Carmen. Cool and comforting? Cool!
Caracol Mexican Coastal Cuisine
2200 Post Oak Blvd
Houston Texas
713 622 9996