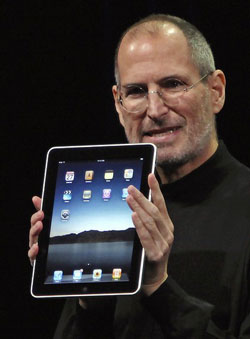 After just 24 hours I'm more impressed with this device then I thought I would be and that says something because I was already sure it was a game changer. Most of the time when you have high expectations for a restaurant, movie, or gadget they rarely match and never exceed – but the iPad delivered.
Here are a few wow moments for me so far.
VIDEO: I know Jobs has influence over Disney but I'm still blown away by the free application ABC put out that allows you to watch in beautiful HD episodes of so many shows. I don't even mind the commercials since the content makes it so worth it. How other networks, (hello NBC, CBS & FOX), didn't jump on the initial wave is beyond me. If I ran a network I'd have every episode of a serial type show like Heroes up on this device yesterday on the chance it would intrigue some viewers to get back into the show. Other great apps such as steaming Netflix and MLB should also help deliver on the experience.
SURFING: Based on every review and the demos I saw I was expecting to be impressed by Safari. It was even better than everyone says when you are looking at sites you have seen every day.
READING: Some hits and a few misses so far. The fact I was able to get the free Kindle app and download all the books I previously bought was a big surprise. When it even remembered where I left off on my Kindle shows that Amazon gets it. They want to sell books and now I won't be afraid I'm locked into one platform. The books look and "feel" beautiful. The 30,000 free books have an off-white colored background that seems odd and makes them harder to read, but you can't really complain when you can have so many classic titles at your finger tips. The big miss so far is Time magazine who charges 5 bucks for each issue. The reviews on the store are livid as they were under the impression the charge was for the reader not per issue. Considering you can get a yearly paper subscription for $20/52 issues, it seems more than a bit excessive. To see magazines done correctly look at zinio.com who on Sunday released their iPad app with access to their large magazine database. It is how I have read Macworld for years and on the iPad it's an even better experience.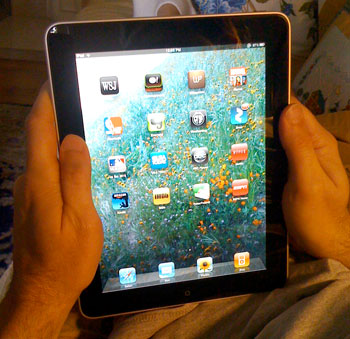 PRODUCTIVITY: So smart of Apple to release all their iWork apps with iPadized ones. I'm writing all this on Pages and the virtual keyboard. So far it's been easy to add bullets, change margins, and format text. The spreadsheet, Numbers, and database, Bento, look equally impressive. Borrowing from their iPhone group the Mail, Calendar and Address Book apps are improved and with Outlook/Exchange integration make a much better solution for accessing my work info then with a laptop.
PHOTOS: Making the device a digital photo frame when not in use is a nice feature and I already loaded a special album with a group of nature photos.
I Still have many more apps and features to learn, the USA Today and Wikipedia apps look great, but I'm excited by what the future holds. Especially when fits so comfortable in my hands.
Dave Dinsmore is an IT professional with an obsession for high tech toys, especially ones from Apple. When he's not researching and installing the latest gadgets, he's at his day job at Dreamworks Animation.