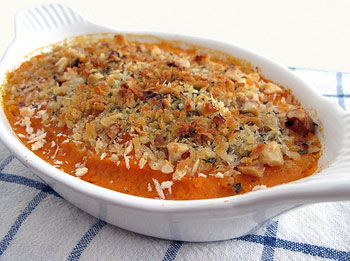 4 pounds sweet potatoes (about 8 medium)
4 tablespoons butter
1/2 cup heavy cream
1/4 cup maple syrup
fine sea salt
freshly ground black pepper
1/2 cup panko Japanese breadcrumbs
1/3 cup coarsely chopped walnuts
1/4 cup finely chopped fresh sage
4 tablespoons melted butter

Preheat oven to 375 degrees F. Prick sweet potatoes all over with a fork. Place on a rimmed baking sheet and roast until fork tender, about 1 hour. Let cool slightly before handling.

Peel potatoes and add to a large bowl. Mash with butter. Pour in cream and maple syrup; mix to combine. Season with salt and pepper. Spread potatoes in 2 small gratin dishes or 1 large baking dish.

In a small bowl, combine breadcrumbs, walnuts, and sage. Season with salt and pepper. Scatter mixture over sweet potatoes. Drizzle over with melted butter. Set in oven and warm through, about 10 minutes. Set under broiler for 5 minutes or until top is golden brown. Serve immediately.
Yield: 6 to 8 servings.
- Recipes courtesy of Joseph Erdos