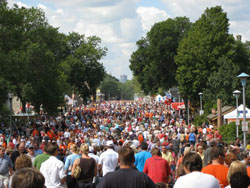 With a state fair that has long been dubbed "The Great Minnesota Get-Together," it should be no surprise that even on the most frigid days of winter, Minnesotans love to get together. And they love to gather with food.

These days, you may find friends discussing politics over a plate of Minnesota hotdish or Scandinavian meatballs and mashed potatoes as they debate over their presidential preferences in a small diner in downtown Bemidji called Minnesota Nice.

In a Minneapolis suburb, there's a good chance you'll find a table of women enjoying gigantic caramel rolls and cups of hot coffee at Good Day Café. Their conversation may include a debate on whether or not Al Franken really is serious about fighting for Minnesota families.

On Super Tuesday, the Republican Party of Minnesota, the Democratic-Farmer-Labor Party and the Independence Party of Minnesota will all hold caucuses. We like to think of them as neighborhood meetings. Will they include food? I'm not sure. But, if I could choose one dish to serve to all, it would include a couple of ingredients that Minnesotans are familiar with. It would be hot and hearty. Something close to a hotdish -- that Minnesota mix of a variety of ingredients baked in a casserole -- but different.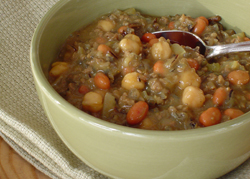 To observe Super Tuesday in Minnesota, I've developed a meal in a pot that can hold its own as it stands alone. Familiar flavor and texture come from a generous amount of Minnesota-grown wild rice. Minnesota Super Duper Tuesday Soup is not your everyday wild rice soup, though. Just a wee bit of a new twist comes from the addition of Minnesota bison. Perfect food for bodies trying to stay fueled in the winter, it's loaded with protein and very satisfying. Pinto beans and garbanzo beans add beneficial fiber.

Curry powder, cumin and cayenne add just a moderate amount of heat for those sensitive Scandinavian palates.

It's the soup that will satisfy all Parties as they gather for the great get-togethers on Super Duper Tuesday in Minnesota.

Minnesota Super Duper Tuesday Soup
3/4 cup wild rice, uncooked
2 cups water
1/2 teaspoon salt
1/2 cup (1 stick) butter
1 cup chopped onion
1 cup chopped celery
3 garlic cloves, minced
1 pound ground bison
2 teaspoons curry powder
1 tablespoon ground cumin
1/2 teaspoon paprika
1/8 teaspoon cayenne
1/4 cup flour
6 cups beef broth
2 tablespoons red wine vinegar
1 (15-ounce) can garbanzo beans, rinsed and drained
1 (15-ounce) can pinto beans, rinsed and drained
Salt and pepper to taste

Rinse wild rice under running water using a strainer or in a bowl of water; drain. Bring wild rice and water to boiling in a heavy saucepan. Add 1/2 teaspoon salt, reduce heat and simmer, covered, until kernels of rice open and are tender but not mushy, about 45 minutes. Drain and set rice aside.

Melt butter in large soup pot over medium heat. Add onion and celery and sauté for 5 minutes. Add garlic and ground bison and continue to cook until meat is no longer red and becomes crumbly. Add curry powder, cumin, paprika and cayenne. Mix well.

Sprinkle flour over the meat mixture and stir well. Take pot off of heat. Gradually stir in beef broth. When broth has all been added, return pot to heat. Stir in vinegar, both cans of beans and cooked wild rice and simmer until the soup is heated through. Season to taste with salt and pepper. Serve piping hot. Yields 6 large bowls of soup.
Sue Doeden is a popular cooking instructor, food writer and integrative nutrition health coach. She is the host of Good Food, Good Life 365 on Lakeland Public Television. Her own hives full of hardworking bees and her love of honey led to the creation of her recently published cookbook, Homemade with Honey.