In 1968, our neighborhood Good Humor Man ran for President of the United States.

It was a huge story in my home town of Highland Park, Illinois. And since we've arrived at the fortieth anniversary of this man's candidacy, it seemed like a good time to tell it again.

His name was Don DuMont, a 64-year-old Republican who described himself as an "old-fashioned, up-to-date, Good Humored square with rounded corners."

Stepping out of his white ice cream truck, dressed in his white uniform and white hat with his white hair, he appeared before us like an angel – a big, husky, right wing angel. But with no wings. At least none that could carry him all the way to the White House.

Even so, on the ballot of the New Hampshire primary, there was our Good Humor Man – which, in itself, was amazing – but even more amazing considering he lived six states away.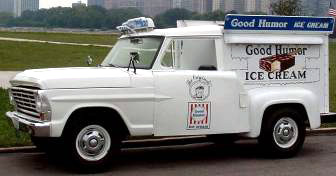 I keep having images of the DuMont "machine" rolling into Concord in that ice cream truck, asking people to sign his nominating petition. And how many times do you see an ice cream truck with out-of-state plates?

Selling ice cream doesn't exactly qualify someone for the highest office in the land, but a Good Humor Man certainly has a knack for creating a large number of allies.

And Don DuMont was much more than just an ice cream man. Behind the white uniform and false teeth, Don was also a mechanical engineer, a writer and an evangelist.

He was also a political activist.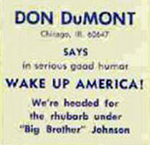 In 1949, DuMont founded the RepublAmericans, establishing a voice from the right, Don said, "to counter the leftist ADA." The founders of the Americans for Democratic Action included Eleanor Roosevelt, Hubert Humphrey and John Kenneth Galbraith – and Don decided to take them all on. So what was he doing selling us frozen novelty desserts?

In so many ways, Don wasn't your typical ice cream man. He didn't drive up and down the streets, he didn't play ice cream music, and all the kids in the neighborhood didn't run after his truck.

Instead, he did business from his usual spot, parked along the side of a road bordering on the forest preserves by the Skokie Lagoons.

But Sunday nights were different. That's when Don made home deliveries – which forced him to become sort of a covert Good Humor Man. Stealth-like. Under the radar. Otherwise, kids from the other houses would come out and swarm him and he'd never get through his route.

When he made the rounds, company policy would only allow him to sell bars by the dozen. And the minimum order was two dozen.

It was a "too many or nothing" proposition, and "nothing" wasn't an option. Freezers all over the neighborhood were packed with Good Humor bars, taking up space where beef and chicken used to be.
And Don would be back the following week, selling dozens more. We basically had to gorge ourselves to finish them in time to have room in the freezer for the next delivery.
There were so many great bars to choose from, and we all had our favorites. Chocolate Éclair, Strawberry Shortcake, Toasted Almond, and Candy Center Crunch were always more than just different flavors to us. They reflected our personalities.

Don also sold a soft drink called Gold Water – advertised as "the right drink for the conservative taste" – and was available during Barry Goldwater's presidential bid in 1964.

When Don sought the presidency in '68, he ran on a platform of "less taxes and more pay with liberty and good humor." He wanted to drastically cut the budget and completely do away with personal income taxes – which would have helped ease the cost of all those ice cream bars in our freezers.

When all the votes in the New Hampshire primary were counted, Don DuMont received 39 votes – falling just short of the 80,666 votes for Richard Nixon.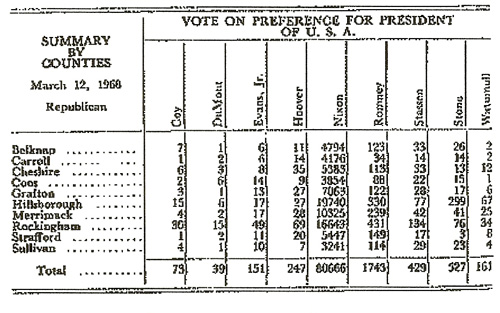 Don's brother, Allen, developed the television picture tube and started the DuMont Television Network, which was launched in 1946 and went off the air in 1955. Jackie Gleason appeared on the DuMont Network as the host of Cavalcade of Stars. Other top shows included Ted Mack's Original Amateur Hour, Captain Video and Bishop Sheen.
Robert Keats is a screenwriter and humorist.