Zucchini-Shallot-Roasted Red Pepper Pie
by Cathy Pollak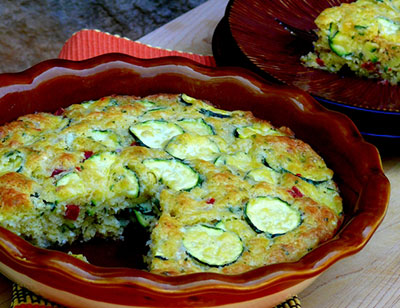 I love zucchini. I always have. My mom used to saute it with butter, tomatoes and onions...it was my favorite side dish as a kid. I use it in everything now, from chocolate cake to pizza...it's a welcome veggie around here.

Now there's this pie. There is no fancy crust to make, you are just going to stir the ingredients together and bake. And it's going to turn out perfect. You'll see.

It's best served right out of the oven, while the crust is crunchy and the inside soft. Even my son LOVED this, I was so glad!
This would also be perfect for brunch in replace of quiche...it's also much easier to make, a guaranteed no fail!
Zucchini-Shallot-Roasted Red Pepper Pie
Recipe from: Inspired by Taste of Home | Serves: 6
Ingredients
3 large eggs
1 cup grated Pecorino-Romano cheese
1/2 cup canola oil
1-1/2 Tablespoons finely chopped parsley
1 Tablespoon finely minced garlic
1/2 teaspoon salt
1/4 teaspoon black pepper
3 cups sliced zucchini
1/4 cup diced roasted red pepper
1 large or 2 small shallots, finely chopped
1 cup buttermilk biscuit baking mix
Directions
Preheat oven to 350°F. In a large bowl, combine eggs, cheese, oil, parsley, garlic, salt and pepper.
Stir in zucchini, red pepper, shallot and baking mix. Pour into a 9" deep-dish greased pie plate. Bake for 25-35 minutes or until lightly browned.
Cathy owns a vineyard and winery in the Willamette Valley of Oregon. She is a food writer for Davis Life Magazine and blogs daily about wine, food and everyday living. She lives with her husband and two sons. You can visit her at noblepig.com.
Mid-Atlantic


by

Carolyn Foster Segal





To reach the St. James Gate of Bethlehem, PA, you must thread your way through what seems like one of the last circles of Dante's inferno: the lights and sounds of the casino are overwhelming....

Read more...

New York


by

Michael Tucker





I had one of the top ten dishes of the year today in the middle of what could have been a dreary day. It was raining and I was limping around puddles on my way to a lunch meeting in Soho.

I had...

Read more...

San Francisco


by

Amy Sherman





What makes a neighborhood place a neighborhood place? My neighborhood has a lot of good and even some great restaurants but 1550 Hyde is a classic neighborhood place. Here's why I think it...

Read more...

Italy


by

Libby Segal





"You know, I once saw an American TV show where someone was eating a fried Oreo." This was the phrase that poured out my host in Torino's mouth as we discussed the difference of food in each...

Read more...