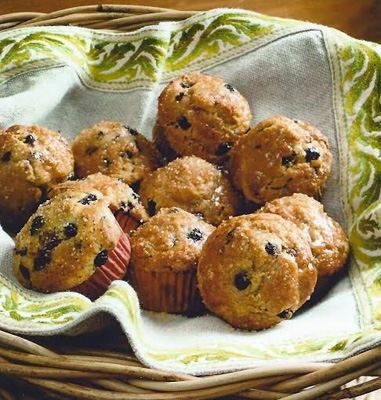 Summer fruits and veggies start coming in this mid to late summertime heat. Often, it is not just a lil' bit of 'maters or peaches or squash – it's a bushel and a peck! Blackberries for us are one of those crops. We have stands of wild blackberries down the dirt roads and edges of the woods on our property that fill our baskets with berries and, in turn, give us all sorts of blackberry delights!
From cobblers and crisps to jams and salads, we have found many an excuse to devour blackberries. Aunt Kathy, with her astute culinary prowess, makes these blackberry muffins that we all clamor and beg for during berry season. The whole wheat flour is heartier and holds up better, since the muffins are laden with berries. A citrus sauce makes for the perfect glaze, and I have found that I love citrus with blackberry any ol' time!
Sprinkle a scant amount of a course sugar atop the muffins after glazing with the citrus sauce and see if you have any leftover for tomorrows breakfast! Hope y'all enjoy these as much as we do!
Whole Wheat Blackberry Muffins with Citrus
Recipe from A Time to Cook – Dishes from Southern Sideboard
Photography by Helen Norman
1 stick butter
3⁄4 cup whole wheat flour
2 cups all-purpose flour
1 3⁄4 teaspoon soda
1 teaspoon salt
1 cup sugar
1 cup buttermilk
2 eggs, beaten
1 3⁄4 cup blackberries, sweetened if desired
Preheat oven to 400 degrees F. Place paper liners in muffin tins.Melt butter. Sift the dry ingredients into a large bowl and make a well. Pour buttermilk, eggs and butter in the well and mix with dry ingredients until moistened. Then fold in blackberries. Divide batter evenly among the muffin cups. Bake for 18-20 minutes, until lightly golden.
Citrus Sauce
1 (12-16 ounce) jar marmalade
1 teaspoon freshly squeezed* orange juice
1 teaspoon freshly squeezed* Meyer lemon juice
1⁄2 teaspoon zest from orange and Meyer lemon
Warm the ingredients together and pour over muffins as a glaze while muffins are still warm.
*Freshly squeezed juice is key. Peels of the rinds also make lovely garnishes
James T. Farmer III was born and raised in Georgia, where he continues to live and work as a landscape designer. He shares his love of food, flowers and photography on his blog All Things Farmer.