Spaghetti with Roasted Cherry Tomatoes & Spicy Garlic Oil for Two
by Susie Middleton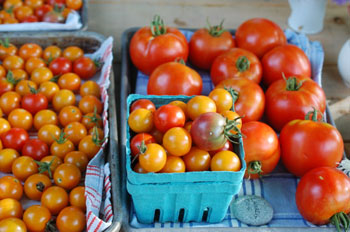 We wait and we wait and we wait and we wait for the tomatoes to ripen. Not just because, like everyone else, we want to eat them. But because we run a farm stand and every visitor to Martha's Vineyard in August wants tomatoes, right off the vine (and right now!). Finally our Sungolds and Sweet 100s and Black Cherries are ripening by the hundreds so we can sell some and eat some too. (Of course I am eating a lot of droppers and splitters in the morning when we're harvesting. Soon we'll have to start feeding the splitters to the "baby" chickens who actually are now almost four months old and just started laying eggs!)
The farm stand customers are even more eager to get a hold of bigger tomatoes. Fortunately, we have lots of Early Girls ripening now, too, but alas they are not nearly as tasty as the beefsteaks and heirlooms that are still green. (The first Cherokee Purples are coloring up.) Still, I'm harvesting as many Early Girls as I can, often two or three times a day since the late morning and early afternoon sun does wonders. But when we run out, there are some disappointed looks on customers' faces.
In the meantime, since I will roast anything I can get my hands on, I am already making this delicious and easy recipe from The Fresh and Green Table that features roasted cherry tomatoes. Thought I'd pass it on to you in case you are similarly obsessed.
Spaghetti with Roasted Cherry Tomatoes & Spicy Garlic Oil for Two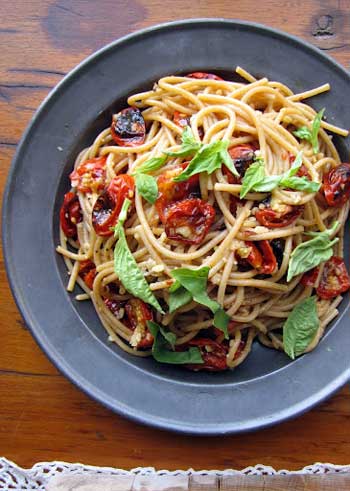 Roasting cherry tomatoes intensifies their flavor (try using them in egg dishes or on crostini, too.) The other big flavor secret here is the infused oil. My Boston chef friend Tony Rosenfeld, who learned to cook great pasta dishes in Rome, taught me the flavor-boosting secret of infused oils. In this pasta (similar to the classic Spaghetti Aglio Olio), I simmer extra-virgin olive oil with garlic and crushed red pepper and use that as the "sauce" for the spaghetti. When I fold the cherry tomatoes in (which hold up surprisingly well after roasting), they add just enough of their residual juices to give the spaghetti a lovely color and extra flavor. Lots of fresh basil and a little Parmigiano, and dinner is served. Keep in mind this is a small-portion recipe—treat it as a starter or side if you're feeding more than two. You can certainly double it, too, if you've got a couple pounds of cherry tomatoes. Bigger cherry tomatoes actually work a bit better in this recipe so pop the smaller ones in your mouth.
5 tablespoons extra virgin olive oil, more for paper
1 pound ripe red cherry tomatoes (on the larger size), cut in half
kosher salt
6 ounces spaghetti
1 tablespoon minced fresh garlic
scant 1/2 teaspoon red pepper flakes
2 tablespoons (or more to taste) thinly sliced fresh basil or mint leaves, or a combination
1/4 cup coarsely grated Parmigiano-Reggiano
Preheat the oven to 450°F. Line a large heavy-duty rimmed sheet pan with a piece of parchment paper. Rub the parchment paper with some olive oil. Toss the cherry tomato halves very gently with 2 tablespoons of the oil and 1/4 teaspoon salt and spread in one layer, cut side-up, on the sheet pan. (Transfer only the tomatoes to the sheet pan—leave behind any juices in the bowl as they will tend to burn on the sheet pan.) Roast the tomatoes until they are browned around the edges and on the bottom and slightly puckered (they will collapse more out of the oven), about 25 minutes for smaller cherry tomatoes, 32 to 35 minutes for larger ones. (There will be some blackening on the sheet pan.) Let the tomatoes cool for a couple minutes on the sheet pan. To remove, gently peel them away from the paper. If they are sticking, lift the paper up and pop the tomatoes off by pressing the paper from behind.
In a small nonstick skillet, heat 3 tablespoons of the olive oil over medium-low heat. Add the garlic and the red pepper flakes and cook, stirring, until the garlic begins to simmer in the oil. Cook for just about 30 seconds more to infuse the oil. (Do not let the garlic brown.) Take the skillet off the heat and set aside (do not transfer the contents to a bowl).
Bring a large pot of salted water to a boil. Add the spaghetti and cook it until al dente, according to the package instructions. Take the pasta pot off the heat, and before draining the pasta, pour a few tablespoons of the pasta water into a small cup or bowl. (Set a small cup or bowl in the sink next to the colander as a reminder.) Drain the pasta in a colander and return it to the pasta pot.
Gently reheat the infused oil if necessary.
Season the pasta with 1/4 teaspoon salt and drizzle and scrape all of the spicy garlic oil over it. Toss well. Add the roasted cherry tomatoes, the Parmigiano, and 1 to 2 tablespoons of the pasta water. Stir gently but thoroughly until the pasta turns a light pink color. (You don't want to break up the tomatoes, just release a tiny bit of their juice.) Stir in most of the basil. Using tongs, portion the spaghetti and the roasted tomatoes into two shallow serving bowls. Garnish with the remaining basil and serve right away.
Serves 2
Susie Middleton is the author of The Fresh & Green Table
(Chronicle Books, June 2012) and Fast, Fresh & Green
(Chronicle Books, April 2010). She is the former Editor and current Editor at Large for Fine Cooking magazine. She lives, writes, cooks, and grows vegetables on Martha's Vineyard. Her blog is at <sixburnersue.com
Southern States


by

David Latt





Mention New Orleans and anyone who's been says, "The food's so great. And the music. If you go, you'll love it."

With so few days in town, I asked for suggestions on Facebook and Twitter, read...

Read more...

New York


by

Joseph Erdos





I have always wanted to eat at Balthazar. After many years of fruitlessly trying to go to Balthazar, I finally succeeded. Maybe it was the way the restaurant teased me over these past few years...

Read more...

New York


by

Libby Segal





It is not every day that I meet a furry friend on my travels through coffee shops. Normally, I find a heart shape design or a leaf, or a flower in the foam of my cappuccino-- a symbol of my...

Read more...

Los Angeles


by

Joshua Heller





Los Angeles has the best Mexican food in the world.

An established foodie might suggest this claim be true, because of Los Angeles' high end Mexican cuisine. Places like Casa in downtown or...

Read more...