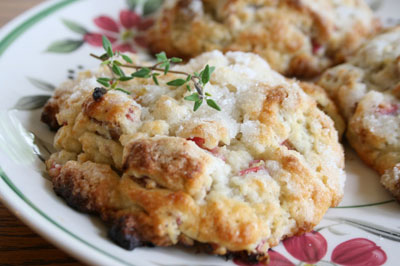 There's a new kid in my garden. Can you see that dainty little sprig of green right on top of that pretty scone? Well, that's it. That's the new kid. His name is Orange Thyme of the Thymus family. I've known his cousin, Lemon Thyme, for many years. For several summers, Lemon Thyme has been a favorite visitor in my kitchen, adding shindig to my sugar cookies, cha-cha to chicken, liveliness to my lemon bread and sassy flair to my salads. I love Lemon Thyme. When she's not in my kitchen, she's just outside the door basking in the sunshine.
And then, last weekend I spotted tiny Orange Thyme at the Kingfield Farmers Market in Minneapolis. I snapped up the potted herb and found a spot for it very near to Lemon Thyme. If all goes well, Orange Thyme should be making a perennial appearance in my garden.
I could not wait to snip a few stems of Orange Thyme and start baking. With a few stalks of rhubarb still in my refrigerator, I chose to make Rhubarb Scones with Orange Thyme, using my favorite base recipe for scones. I added a bit more sugar to balance the tartness of the bits of rhubarb that I stirred into the batter.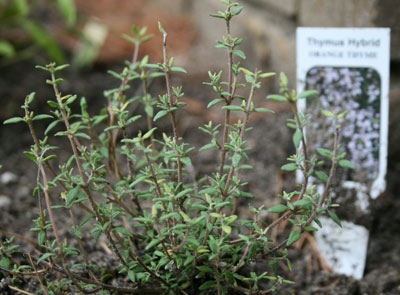 Since I didn't want to take too much from my newly planted Orange Thyme, I only added a tightly-packed 1/4 teaspoon. Next time I might use a full teaspoon in order to get more of its light citrus tang.
Bright and zesty Lemon Thyme would also work well in this recipe. But, if you don't have either one, just use a 1/2 teaspoon of grated orange zest and these scones will still be wonderful, because the star is tart rhubarb.
These scones will make you so happy. Warm from the oven, they are so moist with almost a creamy texture. Each bit of soft, tart rhubarb will send bubbles of joy from your taste-buds to your tummy.
Break through the crunchy sweet sugar sprinkled over the top of the scone and your lips will become a smile. You'll just want to keep eating more. Really. That's how good they are. Even the next day after baking, these scones bring sighs of joy.
Rhubarb Cream Scones with Orange Thyme
2 cups all-purpose flour
2 1/2 teaspoons baking powder
1/2 teaspoon salt
1/2 cup sugar plus more for sprinkling
1/4 teaspoon, packed, orange thyme leaves
1/2 cup cold butter, cut into small (1/2-inch) chunks
2 cups finely chopped fresh rhubarb
1 cup pecans or walnuts, broken
1 cup heavy whipping cream
1/2 cup plain whole milk yogurt
Preheat oven to 425 degrees. Line 2 large baking sheets with parchment paper.
Sift flour, baking powder, salt and 1/2 cup sugar into a large mixing bowl. Add butter and orange thyme leaves. Use a pastry blender (or two table knives) to cut butter into dry ingredients until mixture resembles coarse meal. Stir in rhubarb and nuts. Add whipping cream and yogurt. Stir just until combined.
Drop 1/2-cup mounds of batter onto prepared baking sheets. You should have 4 or 5 mounds on each sheet. Sprinkle each mound with 1 1/2 teaspoons granulated sugar. Bake 20 minutes, until puffed and dark golden. Transfer to a rack and cool to warm, about 10 minutes (if you can wait that long), before serving. Makes 8 to 10 scones.
Sue Doeden is a popular cooking instructor, food writer and integrative nutrition health coach. She is the host of Good Food, Good Life 365 on Lakeland Public Television. Her own hives full of hardworking bees and her love of honey led to the creation of her recently published cookbook, Homemade with Honey.