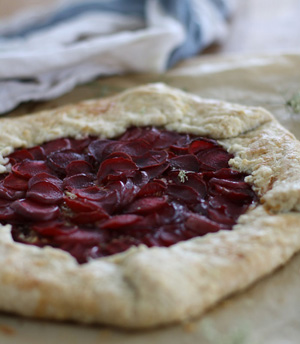 I'm still thinking about the smell of the sweet Virginia hay - wishing there was a way to bottle that scent. We couldn't bring the hay home, but we did bring other treasures back to remind us of our trip: honey, old frames and fruit from various farmers markets.
On the drive home, the dark red plums were on my mind while they sat on the console of the car. Each time I glanced at them, I could almost taste them.
They were tart...so very sharp in that first bite and the bright red inside had a sweetness that was intensely satisfying - a perfect compromise to the sour skin.
We came home to rain and knee high grass and with too many things I needed to do to count. Yet again, those plums called to me.
Dane held them in her hands. I could see it was their size that excited her, as if they were grown just for her small inquisitive hands.
She played and I rolled dough beside her - a perfect way to be home.
PLUM & TOASTED ALMOND GALETTE
Adapted by Martha Stewart's Recipe
You will need:
THE DOUGH
2 1/2 cups Whole Wheat Pastry Flour, plus extra for sprinkling
1 teaspoon sea salt
1/2-2 tablespoons honey
1 cup ( 2 sticks) cold unsalted butter, cut into pieces
1/2 cups ice water
3 tablespoons milk
Combine the flour and salt in a large bowl. Add the butter, 1 tablespoon at a time and work it into the flour until they are blended, but small chunks of butter still remain (do not overwork). Drizzle honey into the dough and add the ice water one tablespoon at a time; mix with your hands until you can form the dough into a ball, adding 1/2 tablespoon or more ice water if necessary. Form into a ball, wrap in plastic and refrigerate for at least 30 minutes.
Preheat oven to 350°F. Sprinkle a clean countertop with flour, put the dough on it, and sprinkle the top with flour. Use a rolling pin to roll with light pressure from the center out to form a circle.
THE FILLING
1/4 cup whole, skin-on almonds, toasted and chopped
5 to 6 plums, halved, pitted and sliced 1/4 inch thick
3-5 tablespoons honey
Make a layer of chopped almonds on the rolled dough, leaving a 2" space for the crust. Drizzle a bit of honey on the almonds and place the plums on top of the almonds, overlapping each other inside the pie crust starting one inch from the edge. Drizzle the plums with honey, as desired. Fold the edge of the dough over the plums. Lightly brush the crust of the dough with the milk to prevent the crust from burning. Bake for 45-60 minutes or until crust is lightly browned.
Remove from the oven and let it cool for 5-10 minutes before slicing. Enjoy :)
Megan Martin is the author of Fig & Fauna, a blog about farm inspired cooking and agrarian living. She lives on a small farm in South Florida, where she raises animals and grows a vegetable garden. Megan and her husband own and operate Onblonde Pet Spa of Palm Beach.