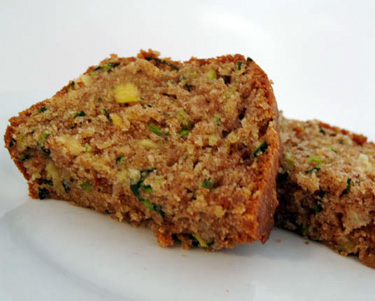 My sister has been making zucchini bread for as long as I can remember – and it's always been a favorite quick bread, especially in the summer. It's a great way to use up overgrown zucchini from the garden.
The pineapple adds some nice flavor and makes a nice alternative to raisins. I like to serve it sandwiched together with cream cheese and thinly sliced granny smith apples.
Moist Zucchini Pineapple Bread
2 cups all purpose flour
1 cup whole wheat flour
3 teaspoons cinnamon
1 teaspoon pumpkin spice (optional)
1 teaspoon baking powder
1 teaspoon baking soda
1/2 teaspoon salt
3 eggs
1 cup canola oil
1 cup sugar
1/2 cup brown sugar
1 teaspoon vanilla
1 tablespoon fresh lemon juice
1 teaspoon grated lemon peel
2 cups shredded zucchini (about 2 medium, grated with a box grater)
8 oz. can crushed pineapple, drained
1/2 cup toasted walnuts, chopped
1. Adjust oven rack to middle position and heat oven to 350 degrees. Grease 2 medium sized bread tins (8½"x4½" x 3").
2. In medium sized bowl, stir together flour, whole wheat flour, spices, powder, soda and salt; set aside.
3. In a large bowl, beat the eggs, oil, sugars, lemon juice, zest and vanilla with a wooden spoon until light and fluffy. Stir in zucchini and mix well.
4. Add flour mixture and stir to combine. Stir in pineapple and walnuts, and stir together gently. Pour batter into prepared pans. Bake at 350 for 50-60 hour or until toothpick comes out clean. Cool in pan 10 minutes and then turn onto wire racks to cool completely.