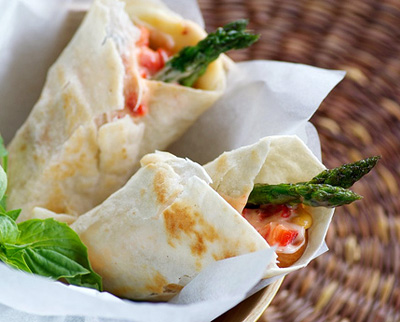 With our year-round temperate San Diego climate, we have picnicked in November, in March, and many months in between. But like chilled watermelon, slushy lemonade, and buttery ears of sweet corn, picnics taste best in the summer months.
That's why last weekend Jeff and I went on our first summertime picnic. I could tell you about the weather (grey skies) or the view (choppy ocean waters), but I think you'd be more interested in the food. I was.
We brought a bottle of chilled pinot grigio, a salad of heirloom tomatoes, fresh corn kernels, basil, and olives, and eggplant, asparagus, and smoked mozzarella sandwich wraps with red pepper mayo. Dessert was simple: juicy, sweet fresh cherries from the farmers' market.

When it comes to vegetarian sandwich wraps there's much more than just hummus, tomatoes, and sprouts. With creamy eggplant, crisp asparagus, and smoky mozzarella cheese, these healthy picnic wraps taste like warm rolled up pizzas but without all the fat and calories.
To reduce fat, I brushed the vegetables lightly with olive oil and broiled them and used soy mayo. I also used whole wheat wraps instead of flour for added fiber and protein. I did not, however, skimp on the smoked mozzarella, because to me, it's the star of this wrap. Each bite is permeated with its creamy texture and smoky flavor. Use less if you must, but please don't skip it.

So tell me, dear readers, what are you favorite picnic foods, healthy or not? Have you gone on a picnic yet this summer? Tell us about it!
Eggplant, Asparagus, and Smoked Mozzarella Sandwich Wraps with Red Pepper Mayo
Makes 4 servings

1 medium eggplant, sliced into 1/2-inch thick rounds (about 10-12 slices)
16 asparagus spears, bottoms trimmed
1 tablespoon olive oil
1/8 teaspoon salt
1/8 teaspoon freshly ground black pepper
1/4 cup reduced-fat or soy mayo
2 tablespoons minced roasted red peppers
4 (6-inch) whole wheat tortillas
4 ounces shredded smoked mozzarella or smoked gouda cheese
8 fresh basil leaves

1. Preheat oven broiler. Line a large rimmed baking sheet with aluminum foil. Lay eggplant slices and asparagus on the sheet, not overlapping. Brush asparagus and both sides of the eggplant slices with olive oil and sprinkle with salt and pepper. Broil for 7-8 minutes or until browned. Since asparagus cooks quickly, it may be cooked at this point and can be transferred to a plate. Flip eggplant slices, and broil another 4-5 minutes or until lightly browned. Remove from oven.

2. In a small bowl whisk mayo and red peppers. Set aside.

3. In a medium dry skillet over medium-high heat, warm tortillas for 30-60 seconds on each side. To assemble wraps, place a tortilla on a flat working surface. Spread with 1/4 red pepper mayo. Top with 1 ounce cheese, 2-3 slices eggplant, 4 asparagus stalks, and 2 basil leaves. Roll up, and wrap tightly in aluminum foil before packing. Repeat with remaining ingredients.
— Also published on Food Blogga