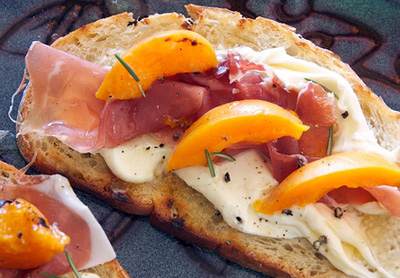 Like cherries, apricot season is short, typically 4-5 weeks sometime during May-August. Skip a couple of weeks at the farmers' market, and poof! they're gone. So as soon as you spy some, buy some.

Here are some tips on how to select and store fresh apricots:

Look for firm, though not hard, fruits with soft, smooth skin. Choose richly colored fruits -- apricots range from pale yellow to darker orange-yellow, and some sport an attractive reddish blush. Avoid apricots that have a greenish hue as they will not ripen. Tiny brown freckles are OK, but skip fruit that has knicks or bruises. And don't forget to take a whiff. Fully ripened apricots will emit a delicate, floral scent.

Fresh apricots are highly perishable. They can be stored unwashed on the counter-top for one to two days. After that, they should be refrigerated. Apricots are too delicate to be placed in the fruit bin with other fruits; instead, store them separately in a covered bowl or plastic container. Allow fruit to come to room temperature before eating.
Like peaches, apricots are highly versatile. They're sensational eaten simply out-of-hand and tossed raw in yogurt, parfaits, and salads. They make delicious savory salsas and chutneys and are a sweet addition to baked goods such as cakes and muffins. Firmer apricots are wonderful grilled, roasted, or poached and served with ice cream, freshly whipped cream, or ricotta cheese. Softer ones can be transformed into jams, jellies, and even brandy.
You'll love these grilled Apricot, Mascarpone, and Prosciutto Toasts for many reasons: They're easy to prepare. They work equally well as an appetizer or a brunch item. They're guaranteed to elicit smiles from your guests. Don't worry if you don't have a grill. You can either use a grill pan on the stovetop or broil them in the oven.

This recipe is all about opposites attracting: Sweet-tart apricots are a delicious foil to salty prosciutto and creamy mascarpone cheese. A drizzle of sticky, sweet honey and a sprinkling or earthy rosemary round out the flavors. I don't need to tell you that they're remarkably good when paired with a crisp sparkling wine.

Grilled Apricot, Mascarpone, and Prosciutto Toasts
Makes 12 servings, or 24 if sliced in half
Print recipe only here.

12 slices thinly cut, crusty Italian bread
3-4 tablespoons olive oil for brushing bread and apricots
6-8 firm, ripe apricots, split in half, and pitted
1/4 teaspoon salt
1/4 teaspoon freshly ground black pepper
3/4 cup mascarpone cheese
12 slices prosciutto, about 1/3-1/2 pound
honey, for drizzling
1-2 sprigs of fresh rosemary
salt and freshly ground black pepper, to taste

1. Pre-heat grill to medium-high. Lightly brush bread slices with olive oil. Grill for 2 minutes, or until grill marks appear. Remove and set aside.

2. In a small bowl, toss apricot halves with remaining olive oil, salt, and pepper. Place cut side down on the grates and grill for 1- 1 1/2 minutes, until lightly marked and softened. Turn over and grill another 30 seconds. Transfer to a plate, and cut each half into 2-3 slices.

3. To assemble toasts: Spread 1 tablespoon mascarpone cheese on each grilled bread slice. Top with a slice of prosciutto, 3-4 slices of grilled apricot, a drizzle of honey, and some fresh rosemary. Lightly dust with salt and freshly ground black pepper. Serve.
Susan Russo is a free lance food writer in San Diego, California. She publishes stories, recipes, and photos on her cooking blog, <Food Blogga and is a regular contributor to NPR's <Kitchen Window. She is also the author of Recipes Every Man Should Know
and The Encyclopedia of Sandwiches
.