Garlic Sauteed Yellow Squash and Carrots
by David Latt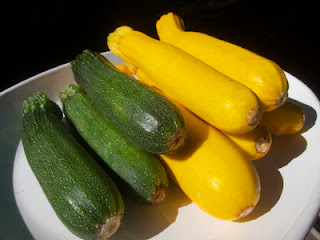 In summers past, I grew yellow squash with great success. The plants spread to every inch of the garden, threatening to overwhelm tomato plants, the herb garden and a small patch of arugula. After the vines firmly established themselves, the long, fat squash seemed to appear overnight. What to do with all those squash?
A neighbor saved the day. She loved squash blossoms. She would nip the problem in the bud, so to speak, by picking blossoms before the squash could appear.
Ultimately our best solution was avoidance. We stopped planting squash. Problem solved.
But I missed squash's pleasant crunch and clean flavor. Last week we were gifted with a basket of zucchini and yellow squash from our next-door neighbor's front yard garden. Picked while they were young, before they became watery, the zucchini and squash were unblemished, firm and the picture of health.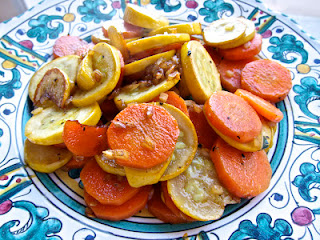 There were a great number of ways to prepare such perfect specimens. They could be steamed, grilled or even eaten raw in thin slices or grated. Because I had a beautiful bone in ribeye steak, I decided to sauté them with garlic to use as a side dish.
Sautéing would caramelize and bring out their hidden sweetness. Combined with carrot rounds, the color and texture contrast would add to the pleasures of the dish.
Steak never had such a pleasant companion.
Garlic Sautéed Squash and Carrot Rounds
Time: 30 minutes.
Yield: 4 servings
Ingredients
4 medium sized yellow squash, washed, ends trimmed, cut into 1/4" thick rounds
4 medium sized carrots, washed, peeled, ends trimmed, cut into 1/4" thick rounds
1 small yellow onion, skins and root end removed, washed, roughly chopped
4 garlic cloves, skins and root ends removed, finely chopped
1 tablespoon olive oil
1 tablespoon sweet butter
Sea salt and black pepper
Directions
Heat a large frying or chef's plan with olive oil, seasoned with sea salt and pepper. Add onions and garlic. Sauté until lightly browned. Add yellow squash and carrots. Sauté until lightly browned. Finish with sweet butter.
Taste and adjust seasoning with sea salt and pepper. Serve hot.
Variations
Dust with 1/4 teaspoon cayenne for heat.
With the carrots and squash, add 1/2 cut washed, trimmed green beans, cut into 1/2" long pieces.
With the onions and garlic, add 1 tablespoon washed, trimmed shiitake mushrooms, roughly chopped.
Once all the vegetables are cooked, add 2 cups cooked pasta, toss, dust with freshly grated Parmesan cheese and serve as a side or main dish.
David Latt is an Emmy-award winning television producer who turns to cooking to alleviate stress. He shares his experiences with food and his favorite recipes on his blog Men Who Like To Cook.
Boston


by

Hallie Ephron





One of the first things you discover early on, dating someone new, is whether your stars align. If you're a serious foodie like me, the key question always involves food.

Mine: Shall...

Read more...

Mid-Atlantic


by

Rachel Parker





In my neck of the woods—the Jewish side of a New Jersey town—we didn't even consider biscuits. Dough was for bagels and bialys. Biscuits were either something we gave the dog, or something popped...

Read more...

Boston


by

Lisa Dinsmore





There are people who, when on vacation, go wherever the road takes them. I am not one of them. If I'm going somewhere new and only have a few days to explore a place, I'm going to find the best...

Read more...

Northern California


by

James Farmer III





Whilst in the Napa Valley, this Farmer gave into a deadly sin – no, not drunkenness in the wine country…gluttony! There's no beating around the bush about my love for food - I write about food, I...

Read more...