Fun summer cocktails to float your boat
by Betty Hallock
From the LA Times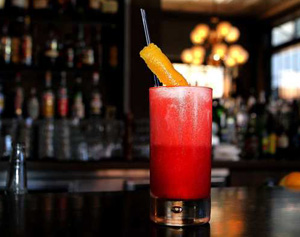 You know summer's here when your cocktail looks like a snow cone. Or a lassi. Or an ice cream float. Or a fruity soda pop that comes in a glass bottle, complete with bubbles and twist-off cap.
A wave of new cocktails that hew toward the playful not only puts us squarely in summer but also is helping to make L.A.'s cocktail scene uniquely its own.
The snow cones at Son of a Gun on West 3rd Street are tiki-inspired crushed-ice cocktails served in paper cones that rest in julep cups. A new cocktail menu at 1886 Bar at the Raymond in Pasadena features bottled fizzy cocktails. And at Pour Vous, the French-themed bar that opened on Melrose Avenue in Hollywood two months ago, the menu is punctuated with lassis and parfait look-alikes and drinks that resemble something from your favorite juice bar. What's up with all the fun drinks from serious bartenders?
"Our cocktail culture really reflects an evolution," says Lindsay Nader, part of the Pour Vous team that helped realize a novel take on French-inspired drinking. "There are [craft cocktail] pioneers in New York who are still kind of stuck in this rigid way of working and creating. They aren't breaking free of the handlebar-mustache, buttoned-up attitude. In L.A., we're moving out of that era, it's anything goes, we're having fun with cocktails and stripping away some of that seriousness."
Alaska


by

Laura Johnson





Twenty years ago this summer I fell in love with Alaska. After graduating from college and moving permanently to Atlanta with friends, I thought I had died and gone to heaven by escaping my small...

Read more...

Los Angeles


by

Anna Harari & Maia Harari





Last night, we had an eating contest at the newest sugarFISH location downtown. Obviously, Maia won, but her dress was a lot stretchier than Anna's. We each ordered "The Nozawa" (the largest of...

Read more...

Northern California


by

James Farmer III





Whilst in the Napa Valley, this Farmer gave into a deadly sin – no, not drunkenness in the wine country…gluttony! There's no beating around the bush about my love for food - I write about food, I...

Read more...

Southern States


by

Ann Nichols





The Waffle House is sort of the unofficial flower of the Southern Interstate exit. Driving North from the Gulf Coast on I-65 for the past two years, I have seen the yellow signs blossoming in...

Read more...