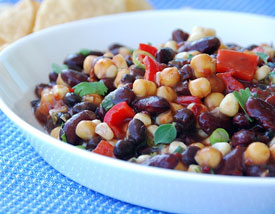 What do potato salad, corn-on-the-cob, watermelon, and bean salad all have in common? They're requisite summer cookout foods.
When I was a kid growing up in Rhode Island, it was usually Italian-style pickled bean salad made with green and yellow wax beans and dark red kidney bean. I always ate so much that I inevitably ended up with pickled gray vinegar lips.
Then sometime in the '90's my mom replaced the Italian bean salad with a rich, sweet baked bean dish made with crispy bacon. It was so sugary good, that one year I ate nearly half of it while I was making it for the cookout. Not a good idea.
When we lived in North Carolina, it was either a mushy green bean salad with diced ham (yech) or a crisp black-eyed pea salad similar to succotash (yum).
Now that we're in Southern California, I don't know what the appropriate bean salad is anymore. So I decided to go Southwest with the flavors. A trio of beans – black, red kidney, and chickpeas – and fresh sweet corn are happily drowned in a spicy, tangy chipotle barbecue sauce. Chipotle chilies in adobo sauce add that characteristic smoky flavor that contrasts pleasingly with the sweetness of the ketchup and brown sugar.
You'll feel satiated well after you eat this salad because beans are a super food – they're high-protein, high-fiber, slow-digesting food which helps keep your blood sugar steady. Feel free to add grilled tofu, pork, or shrimp for added protein.
Of course, if you're not watching your calories, then Jeff would like me to tell you that, "It's awesome with hamburgers and barbecued ribs." Two more requisite foods for a cookout.
The really cool thing is that this salad transforms into a dip when eaten with chips! That's right. It's like a two-fer.
Chipotle Barbecue Bean and Corn Salad
Makes 4-6 servings
Sauce:
1 cup ketchup, preferably Heinz
1/4 cup light brown sugar
1 tablespoon Dijon mustard
1 teaspoon Tabasco sauce
2 teaspoons apple cider vinegar
3-4 chipotle peppers in adobo sauce, finely chopped, plus 1-2 tablespoons of adobo sauce**

Salad:
1 teaspoon olive oil
2 green onions, thinly sliced
2 ears sweet corn, kernels removed from the cob
1 red bell pepper, chopped
1 (14.5 oz) can of black beans, rinsed
1 (14.5 oz) can of red kidney beans, rinsed
1 (14.5 oz) can of chick peas, rinsed
2 tablespoons finely chopped fresh cilantro
1 tablespoon finely chopped fresh oregano
To make the sauce, whisk together all ingredients in a medium bowl, and set aside.
To make the salad, heat olive in a large skillet over medium heat. Add green onion and corn kernels. Saute until lightly browned, about 3-4 minutes. Remove from heat, and add to a large bowl. Add raw bell pepper, rinsed beans, and bbq sauce; stir until well combined. Gently stir in the fresh herbs. Adjust seasonings if necessary. Serve at room temperature or slightly chilled, though it tastes better if allowed to rest for a couple of hours.
**Canned chipotle peppers in adobo sauce can be found in Mexican markets as well as in the Mexican section of most major supermarkets.
— Also published on Food Blogga