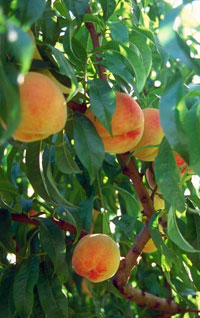 I have no children, not even a dog or a cat. But I'm considering adopting. Adopting a peach tree that is. Near Fresno, farmer Mas Masumoto and his family grow lovely heirloom varieties of peaches including Sun Crest and Elberta. Their peaches are organic, fragile, absolutely delicious and only available by adoption.

Now I have to admit, I am totally and completely biased towards peaches. They are high in dietary fiber, Vitamin A, Niacin and Potassium, and a very good source of Vitamin C but that's not why I love them so much. Soft, juicy, fuzzy, fragrant and ever so pretty to look at, peaches are the sexiest fruit around.

Because the Elberta variety is so delicate, Mas Masumoto sells his peaches in a most unusual way, he allows people to adopt a tree and harvest all the peaches for personal use. That means a commitment to go to the farm and pick peaches the moment they are ready. A single tree produces 400 to 500 pounds of peaches and the cost to adopt a tree? $500. Each year there are more applications than there are peach trees and so only the most deserving get the dribble-down-your-chin experience.

This year I lucked out, a new friend and colleague gave me eight precious peaches from her adopted tree. What will I do with them? Probably just eat them out of hand. But here are some of my favorite things to do with peaches:

* Fill peach halves with goat cheese and sprinkle with some chopped candied pecans

* Grill or roast peach halves, drizzle with balsamic vinegar and serve with pork chops

* Make a salad of peaches and arugula

* Combine peaches with raspberries in a cobbler or crisp

* Slide a few slices into sparkling wine

* Cool off with peach melba

* Combine peaches with green onions, cilantro and jalapenos to make a salsa

* Wrap peaches, grilled or raw in prosciutto
Amy Sherman is a San Francisco–based writer, recipe developer, restaurant reviewer and all around culinary enthusiast. She blogs for Epicurious , Bay Area Bites and Cooking with Amy .