L.A. LOVES ALEX'S LEMONADE - Saturday, September 24, Noon-4pm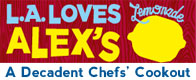 Decadent and delicious, L.A. Loves Alex's Lemonade, now in its fourth year, brings superstar chefs and mixologists from around the globe to Los Angeles to lend their support to ALSF and the fight against childhood cancer.
Each chef and mixologist prepares a signature dish for guests to sample. Guests have the opportunity to stroll the lawn of the historic Culver Studios Mansion, tasting incredible fare and meeting and even chatting with the chefs who prepared it. L.A. Loves Alex's Lemonade is hosted by Chef Suzanne Goin and business partner Caroline Styne (Lucques, AOC, Tavern) along with Chef David Lentz (The Hungry Cat). The event has raised more than $1 million to fund childhood cancer research.
The leisurely, fun afternoon of sampling food and drink is interspersed with inspiring childhood cancer hero stories, updates on the Foundation's quest to find a cure and a silent and live auction of spectacular items, including James Beard Award-wining chefs offering to work their magic in the bidders' kitchens.
General admission tickets: $175/each. For more information and to purchase tickets, click here.
---
2nd Annual DELISH Event - Sunday, September 29th, 5-8pm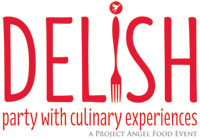 Featuring up to 50 diverse food stations, DELISH goes beyond a typical tasting by engaging attendees to experience what makes food so captivating and entertaining. We are all endlessly fascinated by what food is, how it is prepared, and how it makes us feel. Food is more than a meal.
With DELISH, we will show how a great food dish is more than the sum of its ingredients. It's about the food experience! At DELISH culinary experts and mixologists will guide attendees on a foodie's dream adventure in which attendees are able to partake in their choice of diverse food & beverage experiences. DELISH is proudly produced by and benefits Project Angel Food, one of Los Angeles' most beloved non-profit organizations.
Siren Studios "The Cube," 6069 West Sunset Blvd, Hollywood. Adult tickets: $100 per person. For more information: Click here.