Upcoming Events
by The Editors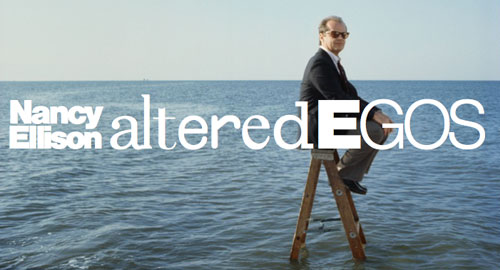 Altered Egos, a retrospective exhibition of over 100 photographs by acclaimed Los Angeles-born portrait author and photojournalist Nancy Ellison. The exhibit opens Wednesday, March 20, and runs through June 1 in space B231, located on the second floor of the Blue Building.
This retrospective exhibition encompasses a lifetime of seeing through the narrow lens of a camera focused entirely on beauty may say more about Ellison than her subjects, as it always comes down to the eccentric choices of the one behind the camera. In Altered Egos, Nancy Ellison takes us offstage to reveal not only her characters' magic and charisma but Ellison's own private encyclopedic matrix of associations that her images evoke. However much this might be the case, her subjects for her represent sublime beauty, and she is clearly ecstatic when her camera finds seamless the worlds of glamour and make-believe. According to Ellison, "altered ego" implies a grandness of scale, worthy of both the ego and its enhancement in the course of capturing it.
The exhibition consists of 114 works spanning Ellison's career shooting notable talent and personalities such as Pierce Brosnan, Jack Nicholson, Mick Jagger, Orson Welles, Sharon Stone, Sean Penn, the Honorable William Jefferson Clinton and former Secretary of State and Honorable Hillary Rodham Clinton, Dustin Hoffman, Robert Mitchum, Angelica Huston, Helen Mirren, Jeff Bridges, Jane Fonda, Jon Voight, Gianni Versace, Sting, Richard Gere, Pavarotti amongst others. Ellison's iconic works from the American Ballet Theater are also included along with numerous still images she took on the sets of major Hollywood film studios.
For a Sneak Peek check out our Photo Gallery.
Design Lab at PDC is located on the second floor of the Blue Building and gallery hours are open Monday - Friday from 11:00am - 6:00pm or by appointment on Saturday.
New York


by

Libby Segal





It's Sunday morning, and the last thing I want to hear is a discrete ringing sound, calling out from my computer, to alert me that I have mail. I ignore my computer, throw on my jeans, and catch...

Read more...

New York


by

Hope Stranger





Alex and I have been dating for almost four months now. We have shared several meals and conversations together beyond Casa Mono. As our relationship has settled into a 'monogamous' place, we...

Read more...

Los Angeles


by

Maia Harari





I try really hard to be a health-conscious dancer. I go to the health food markets and buy spinach and avocados and turkey breast and trail mix. But the truth is, I am a carb monster. "C stands...

Read more...

New York


by

Michael Tucker





The word on the street is that Mario Batali has been losing sleep. He's been seen pacing up and down in front of his various restaurants, wringing his hands and sighing – all because he heard...

Read more...