From the LA Times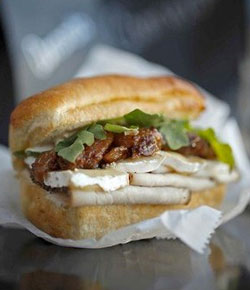 To call a turkey sandwich the stuff of memories sounds far-fetched (few have waxed Proustian about a turkey club), but that's what it is to Peruvian chef Ricardo Zarate. The chef behind Los Angeles' Mo-Chica and Picca came to know and love the turkey sandwich not in his native Lima but while working at the Millennium hotel in London early on in his culinary career. The object of his craving: roasted turkey with fried sweet potatoes and jalapeno-cilantro aioli between two slices of buttery brioche.

"To be honest," says Zarate, "Peruvians eat turkey only for Christmas. Christmastime it's crazy — you know at dinner we have to have the turkey … marinated with Peruvian spices, garlic, salt, pepper, a little Pisco, soy sauce." Now he's inspired to make it for Thanksgiving — so he can make the sandwich he still remembers.

This week, the leftover-turkey sandwich looms especially large. According to the National Turkey Federation, 91% of Americans eat turkey — about 675 million pounds of it — for Thanksgiving. And much of Thursday's bird will probably end up between a couple of pieces of bread. So, what better time to revisit the turkey sandwich?