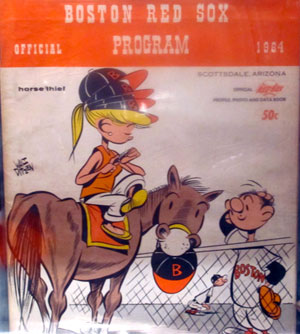 When we were growing up like any kid in New England we loved baseball. The Red Sox were our focus and Ted Williams was our idol. In the middle of winter our parents excused my sister Tanya and I from school that year for a whole month to take us to Phoenix, Arizona to watch the Red Sox Spring training.
In the mid 60's, you guessed it Ted Williams was the hitting coach. That first day at practice my sister and I showed up with our well-oiled leather mitts, hers on her left hand, mine on my right. We inched our way to the sidelines, near enough to hear Mr. Williams as he laid out his plan to the players for the day's practice. First, he instructed them to do the mandatory pushups, jumping jacks, and an ungodly number of laps around the baseball diamond as he made notes on his clipboard.
As each player hit the ground to begin with the sit ups, the soft spoken coach turned and started talking to my sister and me. He liked the looks of our mitts, because he stared at them for several long seconds- "Do you play baseball a lot?" he said.
"We play everyday", said my sister. "Do you want to play baseball today with the club?" We replied at same time, "are you kidding? YES!!!"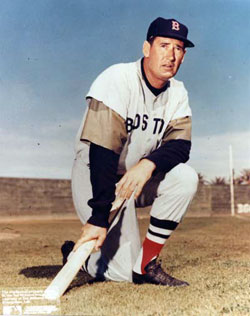 That is how we met Ted Williams. The three of us stood together watching the players do almost two hours of warm up exercises as we talked to him the whole time. When he asked where we lived and we told him Maine, his shyness evaporated. He told us that he had fished in Maine for years in the Rangeley Lake area and he loved Maine's beauty.
We told him that we lived in the Belgrade lakes region. He said that he had fished on Great Pond many times. I said that we lived on the next lake over and we fish a lot when no one was around to play baseball with. "Yup, that's a problem" as he nodded his head like he knew how we felt. "Well today you have a whole team to play with!"
As the players were nearing the end of their work out Ted inquired if we wanted to do some warm up pitches. He threw the first pitch slowly; no problem catching that one. "Are you ready for a ground ball?"
I called it and swiftly the ball rolled into my waiting mitt. You know Ted, that's what he asked us to call him, you can throw the ball harder.
"Don't worry." And he did. Pop up balls, grounders, curved balls, and a few not so fast, fastballs.
"You two are not bad."
I said, "you should see us fish!"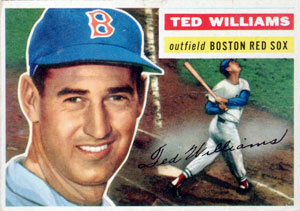 Now that we were warmed up and the players were ready it was time to "play ball" Ted asked us what position that we liked to play; Me, short stop-a lot of action. My sister, pitcher; I have a good fastball. I know he tried not to laugh.
"How do feel about left field?"
"Left field, huh…?"
"Well, try it today, I played left field."
"You did?"
"Yup."
"Okay, we'll try it."
We both walked way out to left field and positioned ourselves so we covered it ALL. Ted was up at bat, the pitch came over the plate and Ted hit it skillfully to you guessed it: left field. My sister called it and ran head on and scooped it up like she always did in our backyard. Throwing it back that far was another story. So, we confided to Ted that maybe would it be okay to throw that ball to the third baseman and he could throw it on to the pitcher?
"Yes, but I'll only let you do that for 3 days, 4 tops until you build up your arm and then it's the big league."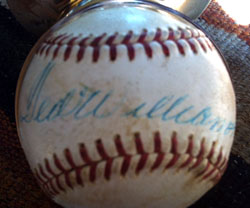 It never occurred to us that he was kidding and maybe he wasn't.
Late that afternoon we went back to our hotel tired and content. When it was time to go out for dinner we told our parents that we couldn't possible go because we had stuff to do. Stuff?
Yup… pushups, jumping jacks and a good long run. Both our parent's eyes got big with disbelief; NO dinner? Not even your favorite barbeque place? No, we are getting in shape for Spring Training.
That was how our first day at Spring Training for the Red Sox went and we had 29 more days with Ted Williams. All spent catching every ball that came into "our" left field.
Brenda Athanus runs a small gourmet food shop in Belgrade Lakes, Maine with her sister Tanya called the Green Spot.
The Green Spot
This email address is being protected from spambots. You need JavaScript enabled to view it.
207.441.9327