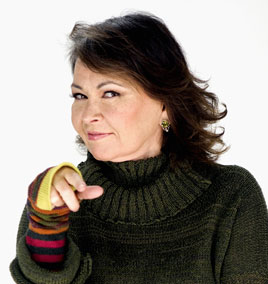 Michael Hiller
Can you believe it? I ended up on the nut farm! OK, no wise comments. I'm talking about a real nut farm in Hawaii, where my five kids and five grandkids can ramble around, work up an appetite (I don't have to work at it), and then enjoy some of the luscious macadamia nut cookies that I'll be making for them on Mother's Day. (I know that's backward — they should be making them for me.)
Mac nuts are the best — pearly and buttery, with just the right texture and so easy to crunch. Everybody loves them. Of course, that includes the wild pigs that have grudgingly agreed to let Granny (that's me, I still can't believe it), the kids and their pals share the place with them and the wild turkeys.
The gorgeous greenery, the ocean in the distance, the sound of the rain that keeps it all lush and fra-
grant: It's a sweet slice of heaven, and I hope everyone can find their own little slice of that, wherever they are.
Roseanne Barr's Giant White Chocolate Chip Macadamia Nut Cookie Recipe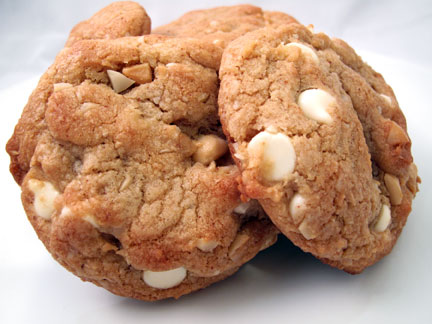 James Moore
1/4 teaspoon baking powder
2 sticks unsalted butter, room temperature
1/2 cup granulated sugar
1 cup packed dark brown sugar
1 teaspoon table salt
2 teaspoons vanilla extract
1 large egg
1 large egg yolk
1 1/2 cups white chocolate chips (I like Guittard)
1 cup unsalted macadamia nuts, roughly chopped
1/2 cup unsweetened flaked coconut
1/2 teaspoon baking soda
2 cups unbleached all-purpose flour
Adjust oven rack to middle position and heat oven to 350 degrees. Toast coconut and macadamia nuts on small cookie sheet, stirring every 2 minutes, until golden brown, about 6 minutes. Set aside to cool.
Increase heat oven to 375°F. Line 2 large (18- by 12-inch) baking sheets with parchment paper. Whisk flour and baking soda together in medium bowl; set aside.
Cream the butter in the bowl of stand mixer on low speed for 30 seconds. Add the sugars and increase the speed to medium, and cream the mixture until light and fluffy, 2-3 minutes. Reduce the speed and add the egg and egg yolk and mix until combined. Mix in vanilla.
Add dry ingredients and mix on low speed just until combined. Add chips and nuts and mix just to combine, remove bowl from mixer stand and give final stir with a rubber spatula to make sure ingredients are evenly distributed.
Divide dough into 16 portions, each about 3 tablespoons (or use #24 cookie scoop). Arrange 2 inches apart on prepared baking sheets, 8 dough balls per sheet. (Smaller baking sheets can be used, but will require 3 batches.)
Bake cookies 1 tray at a time until cookies are golden brown and still puffy, and edges have begun to set but centers are still soft, 10 to 14 minutes, rotating baking sheet halfway through baking. Transfer baking sheet to wire rack to cool.
Roseanne Barr is an award-winning actress, comedian and writer best known for ABC's "Roseanne." She has just completed her third book, "Roseannarchy NOW!", which will be published in the fall by Simon Spotlight. www.roseanneworld.com