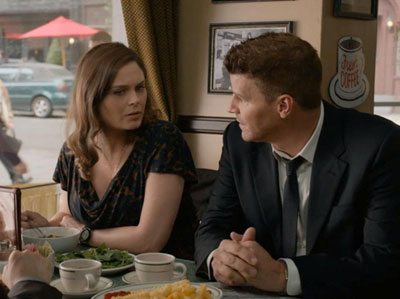 It's amazing that some can go through an entire detective novel or TV series without eating. I'm not talking about readers or Netflix viewers; I'm referring to the characters, for whom the ratio of meals to angst seems to be inversely proportional. The band of agents in Criminal Minds has stopped to eat, by my count, just twice in seven seasons. The Bones team, however, logs almost as many hours in the diner as in the lab. The biggest mystery of the show is why Booth doesn't weigh 350 pounds.
It seems to be feast or famine for anyone trapped in a crime story. In episodes of the British shows Inspector Lewis and Midsomer Murders, the upper-class villains eat far better than the coppers. The downside for the affluent is that they rarely get out of the dining room alive.
The protagonists of culinary mysteries—from Rex Stout's gourmand Nero Wolfe to Virginia Rich's chef Eugenia Potter to Joanne Fluke's baker Hannah Swenson—enjoy breaking bread as much as breaking cases. Most enforcers, however, subsist on coffee and whiskey (Law & Order—all versions) and the archetypal donut (Dexter).
The "Great Detective" Sherlock Holmes never dines while working, reasoning that digesting might interfere with his deductive powers. In a parody of traditional, or golden-age, detective stories like Agatha Christies', Patrick Jane of The Mentalist drinks tea, from his station-house Fiesta ware cup, which only adds to his sly charm. The ultimate gourmand, of course, is Hannibal Lecter, who can be a seductive charmer in his own way, if not the ideal dining partner.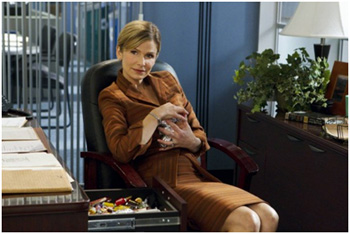 A good number of scenes in The Closer are set at the kitchen and dining room tables, but the food we associate with Brenda is the stash of chocolate bars in her office desk drawer. This sugary approach, however, can turn as sentimentally sticky as the maple syrup on the animal-shaped pancakes served up by Rizzoli's mother in Rizzoli and Isles—the downright cozy adaptation of Tess Gerritsen's far darker novels.
A running joke on Midsomer is that Barnaby's wife Joyce is a terrible cook. Detective Jack Frost of Frost brings in take-away Indian food several times a week; when he does attempt to cook a meal, he burns down his house. Frost would be better off following the lead of Burn Notice's Michael Weston, who exists entirely on a diet of yogurt—no stove required.
But Norwegian crime contenders may have the toughest situation of all—a choice between McDonald's (Stieg Larsson) and Sushi&Coffee (Jo Nesbo). It's almost enough to make one hungry for a meal of bangers and mash.
Carolyn Foster Segal is an essayist and teacher who lives in Bethlehem, PA. Lately, she's been spending most of her time in the garden.