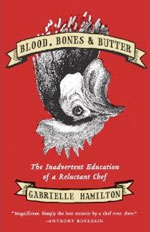 I've been simultaneously watching the HBO version of Mildred Pierce, directed and co-written by Todd Haynes, and reading Gabrielle Hamilton's culinary memoir, "Blood, Bones & Butter
", which probably isn't a fair (food) fight. Hamilton's prose is as "luminous" (her word) as the parties she describes, even when she takes on the blood, bones, and hard knocks that brought her to where she is today: chef/owner of the Manhattan restaurant Prune.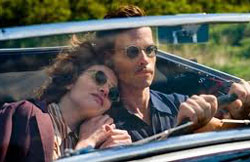 Mildred Pierce (Kate Winslet) has her own restaurant, too. It's called Mildred's, and the menu consists of fried chicken, biscuits and a side of waffles or vegetables. There's also pie, lots of it, and once Prohibition ends, as it did in Part III, there's plenty of hard liquor as well, to wash down all that pie. Monte, Mildred's playboy lover, calls the restaurant the pie wagon—just one example of his disdain for Mildred. Audiences may not mind, however, that Monte is a loathsome cad; after all, he's played by Guy Pearce, a luminous presence here.
The only other luminous presence in Part 3, besides Pearce's Monte, was the dress Mildred wore to break up with him—it shimmered the way Joan Crawford's anger and obsession shimmered in the 1945 film version directed by Michael Curtiz. Winslet has a far tougher job here than her character Mildred, the put-upon, struggling Depression-era grass widow, does, for she seems trapped in a watered-down version of James M. Cain's novel, which was a meandering and alternately flat and over-the-top saga of good-old-fashioned Freudian mothering (the sort that still rears its smarmy head on Law and Order SVU and Law and Order CI).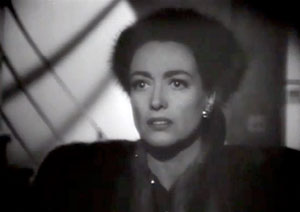 Critics of the pacing of the new screenplay by Haynes and Jon Raymond should be reminded that Cain's novel, beloved by French existentialists, was a downright leisurely excursion into a downward spiral of sordidness. The 1945 film version, written by Ranald MacDougall (and Catherine Turney, whose name did not appear in the original list of credits) gave the story an action plot, a detective-story frame, and a cleaned-up version of Mildred's life (she doesn't sleep with Wally, and she swears off alcohol). It still couldn't erase completely, however, Mildred's possessiveness toward her daughter Vida; it simmers and shimmers in scene after scene, until the moment when we see only the shadow of Mildred—dressed in her mink and matching hat—looming up in Monte's boathouse. Here is Mildred as the Great Mother of mythology: creator and destroyer.
The Mildred here—so far at least—hasn't risen to those heights or sunk to the depths of Crawford's portrayal or Cain's original character. Winslet's Mildred is more restrained than either of her predecessors but harder to read, and this may have to do with two things. The first seems to be the intent to make Mildred sympathetic and blameless, points that didn't seem to concern Cain (he had other chickens to fry). The second factor is the Veda of the new production (a role shared by Morgan Turner, who plays the younger Veda, and Evan Rachel Wood, who hasn't yet appeared).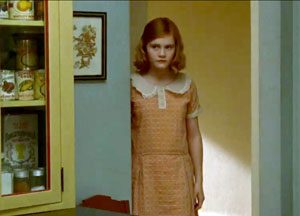 The Veda of Parts 1 and 2 seemed to be less a product of her mother's unstinting devotion and more of just a plain old bad seed, chillingly reminiscent of Patty McCormack's psychopathic child in the 1956 film of the same title. Even more disconcerting, in some of her intonations of lines in Part 3, she seemed to be channeling Sandra Dee's pouty performance as Lana Turner's daughter in Douglas Sirk's Imitation of Life.
Mildred's responses seem driven by simply being fed up with a mouthy, unpleasant child and not by a wrenching sense that the true love of her life is threatening to escape. Meanwhile, viewers may be tempted to shout at the screen: take off that ridiculous bow, and for God's sake, just go to your room for an episode or two.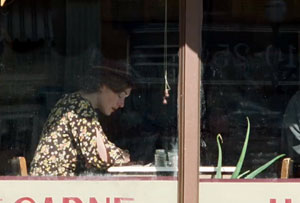 Much has been made of the fact that this is not your mother's version directed by Curtiz, but there are plenty of Sirkian touches, and we've had to watch a considerable number of scenes through windows. The effect was crystal clear in Haynes's Far from Heaven, but why it's necessary here is more opaque. There is one exception — a stunning, even luminous Sirk/Edward Hopper moment when a dejected Mildred stares out from a chophouse window—but the other scenes don't need to be framed and viewed through, or tamped down, under glass. The earlier Mildreds never would have stood for that.
Carolyn Foster Segal is an essayist and a professor of English at Cedar Crest College, in Allentown, PA, where she teaches creative writing and women's film.