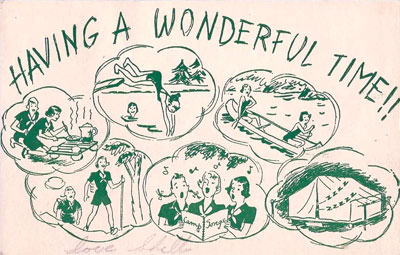 "I'm alive, awake, alert, enthusiastic...I'm alive, awake, alert, enthusiastic--I'm alive, awake, alert--I'm alert, awake, alive--I'm alive, awake, alert, enthusiastic!" (Insert dance moves through entire song).
Since I went to girl scout camp in middle school (yes I'll admit that), this has been my morning mantra. I was recently reminded how important the days of sleep-a-way camp were for me, how they affected me, and how they shaped me.
I spent several summers at Camp Mosey Wood in northern Pennsylvania forging friendships with people from all over the world. I remember meeting new friends from Maine, new friends from Virginia, new friends from Florida, and new friends from New York City. I remember meeting counselors from Ireland, England, and Australia. I remember asking the New Yorkers to teach me how to say Florida with a real New York accent. I remember staying up all night sharing ghost stories, and I remember sitting by the sides of home-sick campers and telling them jokes until they felt better. Home-sickness seemed to be a violently contagious disease that laughter could cure. I should have known my life would revolve around laughter then.
I remember making bracelets from string. I remember tripping over rocks, and skipping stones across the water. I remember the first time I tipped over in my kayak and then pushed myself out to safety. I remember getting my period for the second time and being embarrassed. I remember girl talk late at night. I remember rock climbing on an indoor wall, picnicking at the top of a mountain, and going mud jumping after a thunderstorm. I remember conquering a ropes course and playing capture the flag. I remember capsizing a sailboat, rowing a boat, and canoeing under the beaming sun. I remember polar bearing swimming in the ice cold lake before breakfast and going on early morning fun runs. I remember white water rafting and on another occasion rolling my kayak in the river. I remember adventure--and how I loved it--and how I still do.
I remember keeping in touch--losing touch, and then reconnecting years later.
I remember waking up this morning and feeling alive, awake, alert, enthusiastic.
Libby Segal is a New York City based associate producer, writer, stand up comedian, and the official Hobby Hoarder. Follow her adventures at www.thehobbyhoarder.com