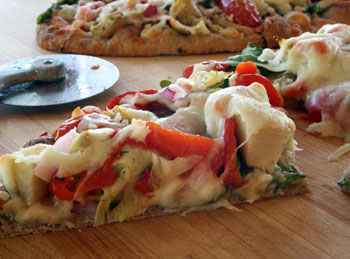 I grew up eating my fair share of great Chicago pizza. My family made the drive from St. Paul to Chicago a few times each year to visit all the relatives living there. Laden with spicy Italian sausage and creamy cheese that stretched in long strings as I pulled the slice away from my mouth, I thought Chicago pizza was the best food in the world.
With that in mind, I feel a little silly calling this concoction of mine a pizza. It's nothing like the Chicago pizza I grew up on. But it is on a flat piece of dough with several ingredients piled on top along with mozzarella cheese.
Arugula on my pizza was only a thought after I'd prepared an Arugula Salad for this week's newspaper column. I had a small amount of the green ingredients left from the salad — arugula, spinach and tiny fresh green peas. Along with a few other little odds and ends from my refrigerator, I decided to create a pizza.
I've noticed lately that the deli at my local grocery store has been carrying more specialty breads. One of these is Tandoori Naan, an Indian flatbread that get its name from the Tandoor, or clay oven, it is baked in. With two oval-shaped pieces of bread in one package, it is perfect when cooking for just one or two. I get the whole wheat variety. I often get an extra package to put in the freezer. It's nice to have when I want to use up some leftovers or just want to prepare an easy, light meal.
I put the Naan on my baking sheet and pulled veggies, opened jars of roasted red peppers and artichoke hearts, and some cheese from the refrigerator. They all went on top of the bread. After only 15 minutes in the oven, the pizzas were ready to eat.
The beauty of the Naan is that it is sturdy enough to hold just about any toppings you have to put on it, and, it's already made.
Use any topping you like. I used the leftover green mixture on one and all arugula on the other. Spinach is a great substitute for arugula.
Leftover Arugula Pizza reheats well in the microwave oven on a low power.
Arugula Pizza
1 package of Naan
2 tablespoons olive oil
3 cloves garlic, minced
1 1/2 cups shredded mozzarella cheese
1 cup baby arugula, washed and dried
Red onion slices
Roasted red pepper, sliced
Artichoke hearts in marinade, drained and chopped
Grape tomatoes, cut in half
Parmesan cheese, grated
Cracked pepper and salt
Preheat oven to 400°F.
Place both of the Naan breads on a baking sheet.
In mini-food processor or blender container, process garlic until very fine. With machine running, add oil all at once through the feed tube or blender lid. Process until ingredients are blended together. Use a brush to spread oil and garlic mixture over both of the Naan.
Divide 1 cup shredded mozzarella and sprinkle over each of the pizzas.
Top with baby arugula, onion slices, roasted red pepper slices, chopped artichoke hearts and grape tomato halves. Sprinkle remaining mozzarella over the top of each pizza.
Bake pizzas in preheated 400-degree oven for about 15 minutes, until edges are golden brown and cheese is melted.
Remove from oven. Sprinkle each pizza with freshly grated Parmesan cheese. Season with freshly ground black pepper and salt. Cut into serving-sized pieces and eat while hot. Makes 2 small pizzas.
Sue Doeden is a popular cooking instructor, food writer and integrative nutrition health coach. She is the host of Good Food, Good Life 365 on Lakeland Public Television. Her own hives full of hardworking bees and her love of honey led to the creation of her recently published cookbook, Homemade with Honey.