Steve Zaillian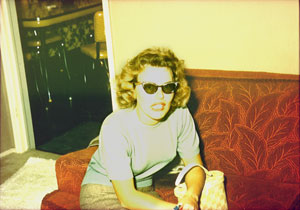 Instead of turkey, mashed potatoes, etc., stuffed grape leaves (along with shish-kabob and pilaf) is the traditional centerpiece of our Christmas dinner.

Disclaimer: Every script I've ever written is overly descriptive and too long, so no doubt this recipe will be, too. Apologies in advance.

The first time I ate at Coco Lezzone in Florence, it was at the invitation of film producer Dino De Laurentiis, who knows a thing or two about Italian cooking:

(1) He created the gourmet Italian DDL Foodshow Emporiums in New York and Beverly Hills about 20 years ahead of their time,

(2) His lovely granddaughter Giada, with many of her family's recipes and great charm and skill, has become a best-selling cookbook author and very popular Food Network chef, and,

(3) He is Italian and always has been.

We were in Florence because that's where Hannibal was being filmed, and Dino asked my wife Elizabeth and me and some others working on the film to join him at Coco Lezzone for dinner.

Now, before I describe what we found there, let me explain how you get there. From Piazza della Repubblica, you walk in the direction of the Arno down Via degli Strozzi, which soon turns into Via della Vigna Nuova. You pass Gucci and Dolce & Gabbana and, perhaps not surprisingly, Via dell'Inferno.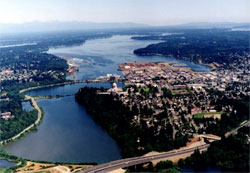 Olympia is a charming little city in the Pacific Northwest, set down on rolling hills surrounded by forests of Douglas-fir, bigleaf maple and red cedar – a pretty, speckled egg resting in a nest of twigs.

This is the old part – the far end of the Oregon Trail, settled on Native American land by Europeans in the 1850's – where Leopold Schmidt founded the Olympia Brewing Company in nearby Tumwater Falls and sold his beer, if you recall, with the slogan, "it's the water", which I'm surprised none of the hundreds of water bottlers has adopted now that Leopold's beer business has folded.

This is Downtown Olympia, with its century-old buildings, its perfectly-proportioned Capitol, its tree-lined streets on which people drive politely and you can always find a place to park – often without a meter – near the still-family-run bookstore or café or bike shop you want to go to.

But that's not where I wanted to go, or rather needed to go, to help my son move into an unfurnished apartment. We needed to head over to the other part of Olympia and it is this part – which I imagine you'd find outside most other American towns of its size – that I'm still trying to figure out as the plane banks over Puget Sound taking me home.