Lucy Dahl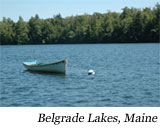 "The Lakes!" The children would shout from our rented Mini-Van, as we approached Waterville, Maine for our summer vacation. The first lake symbolized that we were almost at the end of our long day of traveling from Los Angeles. Every July, my husband and I traveled with our blended family of seven children in to the deepest country of the Belgrade Lakes, Maine. Unlike the coastal towns, the inland lakes do not attract the tourists in masses, mostly New Englanders, visiting camps that have been within their families for generations.
The town is a highway, consisting of a Wall Mart, a large Grocery store, and every fast food restaurant chain imaginable. But there is a little secret along this highway… Nestled quietly along the roadside, is a simple farm stand, that from the outside appears to be selling fruits and vegetables, but only the lucky that venture in, soon realize that they have entered an epicurean paradise!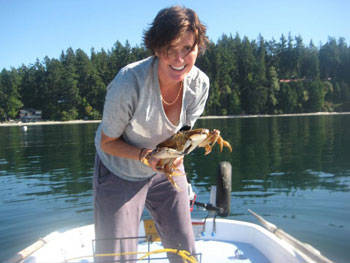 When I am at my home on Orcas Island, Washington and away from the concrete jungle of Los Angeles, I morph from a well dressed city slicker to a somewhat cave-like hunter and forager.
At this time of year, I trample around the forests, looking in the ferns with my beady eyes for the first sign of fiddleheads, I watch the crocuses peep up through the ground as the blossom bursts on the apple trees; but most of my cavewoman thoughts are towards the ocean, the icy, clear ocean filled with great big fierce Dungeness crabs.
Catching crabs is my passion. This past winter, the season opened for a few weeks in December and I was out there in my little row boat, freezing rain pelting down, hardly able to find my boeys due to the rough water; my husband watching bewildered through binoculars, from our little cottage; and as I pulled up my traps to see my haul of crabs, I was happier than a child on Christmas morning.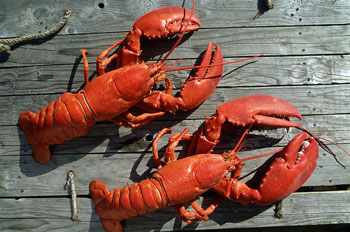 Last week, on Martha's Vineyard, while eating lobster on the docks of Menemsha, my 20 year old daughter asked, "Where do lobsters come from?" She always stumps me! I'm still having trouble with chickens and eggs, so I looked it up and what I found was utterly fascinating.
With a characteristic similar to some humans I know, the female lobster is always attracted to the bad, dangerous alpha in the hood. The male lobster is a mean and aggressive beast. Being the most powerful fighter has earned him the respect of the other males and the pick of the females.
When the female lobster is ready to mate, she approaches alpha's den and secretly squirts a pheromone, subtly mixed with her urine into his lair. Sensing an intruder, the male rushes to his door with his claws raised aggressively, but he is already sufficiently ruffied, and after a brief fight, the female places her claws upon the love drugged male's head, who then obediently escorts her over the threshold of his cave.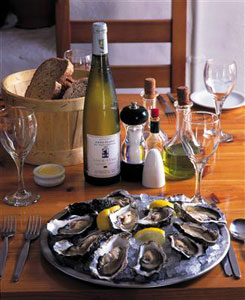 I am half Norwegian and half Irish American. Both of my parents' families were, as you can imagine from completly different worlds.
The Norwegians were (in this order), big gardeners, big drinkers and big eaters. the Irish Americans were (in this order), big eaters and big drinkers.
My father's Norwegian siblings were very close and all lived within ten miles of each other and often had enviable drunken, delicious dinners together, always at our rambling Georgian farmhouse in Buckinghamshire, England.
As a young child (about eight or ten) and after my bedtime story, my sister, Ophelia and I would secretly, sit at the top of the stairs and clandestinely listen to my father and my aunts' laughter and their stories....